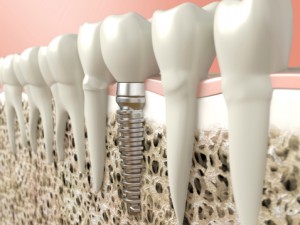 One thing that many people strive for is a beautiful, full smile. Though it may not be important to some, there are those who spend a lot of time and effort into making sure their smiles are in excellent condition, and if their smiles are compromised in any way, it can have negative effects on the way they feel about yourself and the way they interact with the people around you. Not having a complete smile can be detrimental to your oral and bodily health, and our doctors are able to give you the comprehensive smile of your dreams by offering dental implants to their patients.
When you have teeth missing from your smile, there are many negative side effects that can take place. Some of them being a greater risk at gum disease, a misaligned bite, TMJ, and your teeth shifting in order to make up for the extra space. It is important to replace any missing teeth in your smile, and dental implants are an excellent and permanent way to accomplish that goal.
The journey to your dental implants begins with a consultation with our doctors. They will be able to assess your smile in its current condition, ask you about your future smile goals, and determine whether or not dental implants are right for you. You will also have that opportunity to ask questions or bring up any concerns you may have about the procedure. We want you to be as informed as possible throughout the entire process, making sure you feel comfortable.
If you are deemed a candidate for dental implants, a titanium screw will be embedded into your jaw bone, replacing the missing tooth root. Over time, the screw will fuse with your jaw bone, creating a strong and solid foundation. After the proper amount of healing time has passed, the abutment is added, which is essentially a support system for the implant itself as well as the crown. Last, the tooth-resembling crown is added placed, completing your new look. At the end of the procedure, you have a flawless, full smile you have always wanted! If you would like our doctors' help restoring your smile using dental implants, contact our office today!
At South Shore Dental Care, we're committed to providing our patients with a wide array of dental services, high-quality cosmetic dentistry, and up to the minute dental technology. Our Massapequa dental office serves patients from Long Island, Merrick, Bellmore, and Wantagh. Call us today to schedule your appointment.