All-on-6 Dental Implants – Massapequa Park, NY
Replace Your Lost Smile in One Day
If you have lost all or most of your teeth, you know all too well the struggles that come with large gaps in your smile. You may hesitate to smile in public. You likely find it difficult to enjoy your favorite foods. You are even at-risk of future health problems. What can you do to rebuild your smile? Many patients have already benefited greatly from All-on-6 in Massapequa Park. This dental implant treatment might change your life!
How Do All-on-6 Dental Implants Work?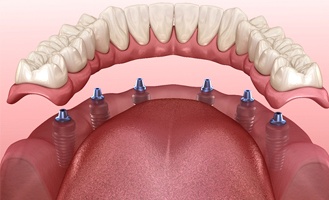 As the name of All-on-6 implies, it is a treatment wherein an entire arch of prosthetic teeth is supported by just six dental implants. We place the implants at very precise positions throughout the jawbone, in areas where the bone tends to be thick and strong. After the implants are in place, we immediately place a temporary denture on top of them. That's right — you can arrive at our office without any teeth and leave with a complete smile! A few months after your initial surgery, we will replace your temporary prosthetic with a permanent one.
Am I a Candidate for All-on-6 Dental Implants?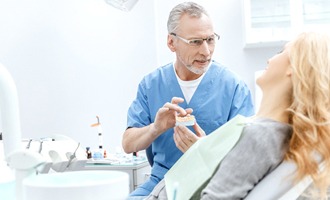 Most people who have lost all of their teeth are candidates for All-on-6 dental implants. However, you will need to schedule a consultation with our team to be sure. We will evaluate the health of your gums and any remaining teeth. We'll also verify that your jawbone is strong enough to support dental implants in Massapequa Park. If everything looks good, we'll plan your surgery.
If we find any cause for concern, we'll recommend a treatment plan that may make you eligible for dental implants in the future. For example, some people need extractions, gum disease treatment, or a bone graft before they can receive dental implants.
Benefits of All-on-6 Dental Implants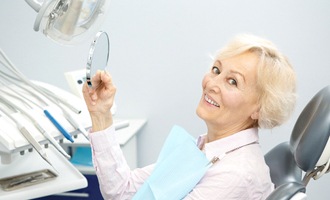 Some outstanding benefits of All-on-6 dental implants include:
You receive new teeth on the same day as your implant placement surgery.
After your implants bond with your body, you will enjoy a very strong bite force that enables you to enjoy practically any food.
Your permanent prosthesis will be practically identical to natural teeth. Onlookers are unlikely to be able to tell that your new smile is artificial!
The dental implants will stimulate your jawbone and help to keep it strong and whole.
Dental implants are easy to care for.
All-on-6 vs Traditional Dental Implants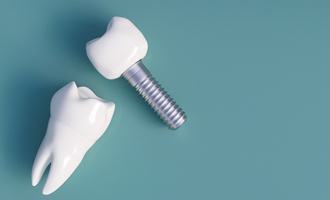 All-on-6 dental implants have a few advantages over traditional implants. For example, the process tends to be quicker because there is no need for you to wait months after the implant placement surgery to receive your prosthetic teeth.
However, traditional dental implants have their advantages as well. For instance, they generally require more implants to support an entire arch of prosthetic teeth. Using more implants can result in the sturdiest denture possible.
During your consultation, we will help you to weigh all of your treatment options and settle on the one that best fits your circumstances. When you are ready to replace your lost teeth, contact our team. We can't wait to rebuild your smile!