Dental Checkups & Cleanings – Massapequa Park, NY
We Help Your Teeth Stay Stronger and Healthier
It's no secret that it's far easier to prevent problems from occurring in the first place than have to fix them later -- and that's especially true in dentistry, as untreated issues can quickly turn into serious, painful situations. You can stay on top of your oral health and hygiene by maintaining your twice-annual checkups and cleanings with your Massapequa Park dentist, Dr. Dory Stutman or Dr. Khalida Stutman. Recommended for children, teens and adults, these regular visits are the key to keeping a smile healthy for a lifetime. Keep reading to learn more about why you should commit to your dental hygiene checkups and cleanings from South Shore Dental Care!
Preventive Dental Care: Crucial for Healthy Smiles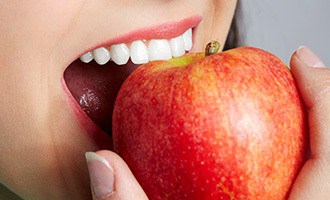 Keeping your smile healthy and strong is a team effort. When you come to your six month hygiene checkups and cleanings, we can do our part of the job by checking for decay, infection, and nipping small problems in the bud. To keep your teeth happy and healthy for years to come, we'll look for the following in your twice annual visit to South Shore Dental Care.
Tooth Decay/Cavities
Cavities are small holes that form on the tooth enamel when sugars, acids, and bacteria haven't been thoroughly removed with proper oral hygiene. Make sure you're brushing your teeth for two minutes, twice a day and flossing daily in order to prevent decay. Your dentist will check for the signs of tooth decay and can fill cavities early to prevent a more serious infection.
Gum Disease
Dr. Stutman will also check your gums for signs of an infection during your regular dental exam. Gum disease affects some 75% of American adults, but it's easy to reverse when caught early. Periodontal therapy may include a deep cleaning, a treatment which reaches above and below the gum line to create cleaner gums and healthier teeth.
Worn Dental Work
In your regular checkup, your dentist will evaluate existing dental work to determine if problems exist or are likely to arise. You may not think about that crown you had placed 10 years ago, but you certainly will when something goes wrong with it. Help yourself be prepared by committing to your regular dental appointments at South Shore Dental Care.
Oral Cancer Screenings
Your doctor can perform an oral cancer screening along with your checkup and cleaning if you desire. While this preventive measure is recommended for all adults, you should take special care to have regular oral cancer screenings if you experience any risk factors for the condition. These include: tobacco use, heavy alcohol consumption, prolonged exposure to UV light, and irregularities in the mouth.
Schedule Your Appointment Today!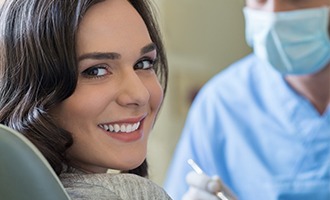 When was the last time you settled into the dental chair? If it's been more than six months, or if you can't even remember the last time you visited the dentist, please don't wait to get in touch with South Shore Dental Care! We are here to help you and your family enjoy the best, most beautiful smiles possible -- something we believe everyone deserves. Contact our office to schedule your appointment today!