Zoom! Teeth Whitening – Massapequa Park, NY
Enjoy Beautiful Teeth That Shine
You have many options when it comes to how you can whiten your teeth, from whitening toothpastes to over-the-counter whitening strips. However, none of these options deliver results as dramatic as professional teeth whitening. Drs. Dory and Khalida Stutman offer at-home and in-office Zoom! Whitening treatments that can give every patient a dazzling white smile that will stand the test of time.
Zoom! Teeth Whitening Rejuvenates Dingy Smiles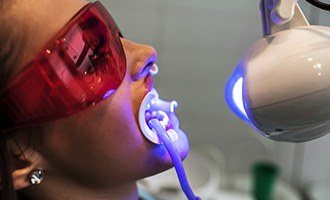 It's natural for teeth to lose their sparkle over the years. Constant exposure to coffee, dark sodas, and even some of your favorite fruits can slowly age your smile. But Zoom! Whitening erases stains and leaves your teeth whiter than you ever dreamed possible.
How does Zoom! work?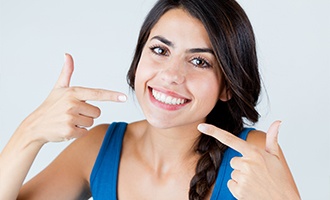 By combining the power of a highly-concentrated bleaching gel with a bright UV light.
How the In-Office Whitening Treatment Works
To treat your smile with Zoom!, your cosmetic dentist places a shield over your lips, tongue, cheeks, and gums. Then, the whitening solution is applied to the surface of your teeth and activated under the light in 15-minute intervals. After just three applications of the UV light, the process is complete and your bright results will be revealed! It can make your smile look up to 8 shades whiter in less than an hour!
At-Home Teeth Whitening
Patients who wish to whiten their smile more gradually may prefer our at-home treatment. We'll simply give you a set of customized mouth trays and the powerful whitening gel, as well as instructions on how to use them. All you'll need to do is wear the custom-fit trays filled with the bleaching gel each evening for half an hour for about two weeks to complete the treatment.
Why Choose Professional Whitening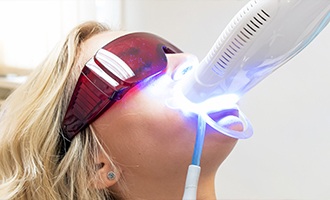 If you want to enjoy the best, brightest smile possible, choose professional teeth whitening. Nothing else offers results as dramatic or reliable as when you partner with your cosmetic dentist. The benefits of professional teeth whitening compared to what you can pick up at the drugstore are many, and they include…
Only your dentist can offer professional-grade teeth whitening for the best results.
Custom whitening protects your sensitive gums and other soft tissues from the bleaching gel.
Your dentist can help you guard against tooth sensitivity.
Professional teeth whitening is activated on the spot, instead of sitting on the pharmacy shelf, slowly gathering dust and losing its potency.
Maintaining Your Teeth Whitening Results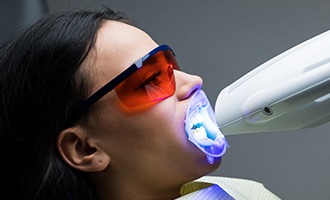 After you have undergone your professional whitening treatment, your results should last for many months. You can make sure your teeth stay as white as possible by limiting your exposure to highly pigmented foods and beverages like coffee, soda, red wine, ripe berries, pasta sauce, and other common tooth stainers. Maintain consistent dental hygiene habits as well, brushing for two minutes, twice a day, flossing daily, and visiting your dentist as recommended.
Patients who choose the in-office whitening treatment will also be given a kit for touch ups. The moment you start to notice your results fading -- long after the initial Zoom! Whitening treatment -- you can use your custom-fit touch up kit to refresh your smile. It's an easy way to continue enjoying your beautiful results again and again.
Are you interested in revealing your whiter, more youthful smile? Don't hesitate to get in touch with our boutique dental practice in Massapequa Park. Contact us to schedule an appointment at South Shore Dental Care today!
Zoom! Teeth Whitening FAQs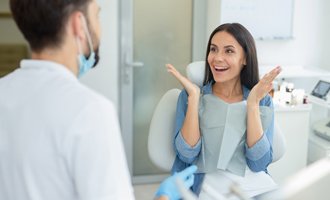 If you're looking for a quick and easy solution to get rid of stubborn teeth stains and discoloration, you've made the right decision in choosing Zoom! Teeth Whitening in Massapequa Park. Whether you prefer in-office or at-home whitening, the results you'll achieve will leave you smiling for months to come. But before you begin treatment, our team at South Shore Dental Care wants to make sure you have all the information you need to feel confident about your decision, which is why we've compiled the answers to some frequently asked questions about Zoom! Teeth Whitening. If you need additional information or want to learn more about the process, contact our office today!
What can I eat or drink after Zoom! Teeth Whitening treatment?
No matter if it's immediately after your treatment or two months later, it's best if you avoid anything that can potentially stain your teeth. Most dentists say, "If it can stain your shirt, it'll likely stain your teeth." After you've completed your in-office or at-home treatment, try to avoid coffee, soda, red wine, ketchup, berries, pasta sauce, soy sauce, and soda. If you smoke, it's highly advised that you make every attempt to quit, as this is one of the leading causes of stained and discolored teeth.
Allowing your teeth to remain free of these items, especially in the first 48 hours is crucial. However, if you do need a coffee fix, make sure to brush your teeth immediately after consuming it.
Should I have my teeth cleaned before undergoing Zoom! Teeth Whitening?
Yes, it is always best if you allow our team to perform a thorough cleaning of your teeth before moving forward with any teeth whitening treatment. The reason is so that we can remove any harmful, stuck-on plaque and tartar. If left in place, it can cause an uneven color to appear on your teeth, leaving you with less-than-ideal results.
To ensure your teeth do not become overly sensitive, it is best if you wait at least a week after having your teeth cleaned to begin your whitening treatment.
Is Zoom! Teeth Whitening safe for my tooth enamel?
Absolutely! There is ample research stating the safety and effectiveness of this whitening system. Dr. Dory and Dr. Khalida Stutman would not offer a solution if it were not proven reliable. There are no known effects of Zoom! Teeth Whitening on your overall health and, in fact, some research shows that it can actually help strengthen tooth enamel. When choosing this method of cosmetic dentistry, you can feel 100% confident that you will receive a truly safe and effective form of treatment.
Who is an ideal candidate for Zoom! Teeth Whitening?
Older teenagers and adults are often the best candidates for Zoom! Teeth Whitening. While each dentist has their own stipulations as to who can undergo certain types of treatment, young children and pre-teens should not have any type of teeth whitening procedure performed. To determine if you are a qualified candidate, your cosmetic dentist in Massapequa Park will perform a thorough examination of your smile to determine your problem areas as well as if you show any signs of possible cavities. Should any underlying issues cause your teeth whitening process to be unsuccessful, it will be imperative that you have them addressed first.