Dentures – Massapequa Park, NY
Say "Goodbye" to the Gaps in Your Smile!
Do you suffer from extensive tooth loss? You're not alone. According to the American College of Prosthodontists (ACP), roughly 178 million Americans are missing at least one tooth and 40 million are missing all of their teeth. If you're a part of that statistic, you know firsthand just how much tooth loss can affect your quality of life. Luckily, you don't have to live that way forever. At South Shore Dental Care, we offer dentures to help rebuild your smile and restore your confidence. If you'd like to learn more about this tooth-replacement solution, continue reading or schedule a consultation with our team today!
Who is a Good Candidate for Dentures?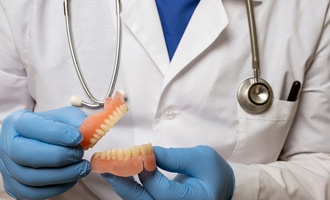 Whether you're missing several teeth or an entire arch, you may be eligible to receive dentures in Massapequa Park. This method of tooth replacement is an excellent option for patients who want to enjoy a complete, fully functioning smile once again. During your consultation, we'll conduct an oral examination to determine if this solution is right for you. It's incredibly important that you have healthy gums to support your new prosthetics. That said, if you have problems like tooth decay or gum disease, you'll need to work the appropriate care into your treatment before you can start the denture process.
Types of Dentures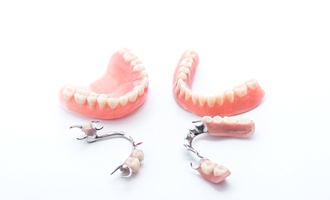 Your first step on your journey towards a fully rebuilt smile is a consultation with our team at South Shore Dental Care. We'll assess your goals and needs to narrow down the right type of denture for your smile. Based on our findings, we'll recommend one of the following options:
Partial Dentures
If you're only missing a few teeth, partial dentures may be the ideal option for you. They fit between the teeth, seamlessly closing gaps throughout your smile. The gum-colored base and artificial teeth are held in place using small metal clasps that loop around the neighboring teeth.
Full Dentures
For patients missing an entire row of teeth, full dentures are an excellent solution to consider. They also have a discreet, gum-colored base and lifelike artificial teeth like partials. However, full dentures sit on top of the gums and are held in place using natural suction or a small amount of denture adhesive.
Implant Dentures
Do you want unmatched stability and durability? You might want to consider getting implant-retained dentures. A full or partial denture is attached to a number of dental implants that are surgically inserted into the jawbone. Because the titanium posts are placed in the jawbone, they stimulate it to prevent its deterioration. Additionally, you can expect to enjoy your new smile for several decades with proper care and maintenance!
The Benefits of Dentures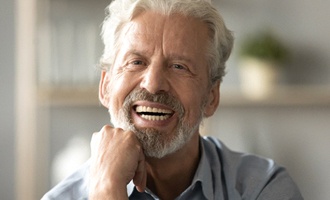 Patients who choose to get dentures in Massapequa Park can expect to reap numerous benefits, including:
Regained ability to eat a nutritious diet
Natural-looking results
Easy to clean and maintain
Affordable and trusted method of tooth replacement
Improved self-confidence
Lifespan that extends well over a decade with proper care and maintenance