All-On-4 – Massapequa, NY
A Fully Restored Smile with Fewer Implants
Tooth loss can leave you wondering if there's any way you'll ever enjoy a healthy, beautiful smile again. While there is the option to replace each individual tooth, there is a far better solution that involves using a full denture and only four dental implants. With All-On-4 in Massapequa, we can essentially eliminate many of the inconveniences of traditional dentures, such as a clicking or popping noise when trying to speak or accidental slippage while eating. By opting for All-On-4 at South Shore Dental Care, you can receive your new teeth the same day as your dental implant surgery. If you have questions about the process and would like to learn more, please contact our office to schedule an appointment today!
How Do All-On-4 Implants Work?
Dental implants are an excellent way to replace missing teeth; however, they do require adequate jawbone density. With All-On-4, our team at South Shore Dental Care can easily anchor a full denture using the support of only 4 dental implants. When strategically placed at the appropriate angle, you can expect your new smile to remain secure for decades or longer. Because we rely on the thickest parts of your jawbone, we will angle the two posterior implants at 45 degrees, which effectively eliminates the need for preliminary treatments like bone grafting. Mimicking the natural tooth structure, these dental implant "roots" will provide stimulation to the bone and ensure a comfortable, beautiful smile.
Am I a Candidate for All-On-4 Implants?
Whether you've lost all your teeth or do not have enough jawbone density to adequately support traditional implant dentures, it is possible for you to be a good candidate for All-On-4. When meeting with your implant dentist in Massapequa, you may originally learn that you would require bone grafting if you were to move forward with implant dentures; however, with All-On-4, that is not necessary. However, you will need to be in good general oral and overall health and show no signs of gum disease or tooth decay. It is also recommended that you avoid any bad habits (i.e., poor oral hygiene, smoking, or chewing on ice or inanimate objects) if you want to avoid dental implant failure.
What Are the Benefits of All-On-4 Implants?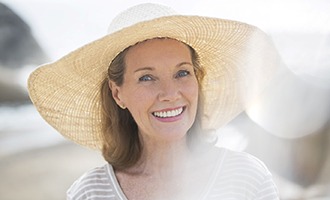 Choosing All-On-4 will allow you to experience many of the great benefits, some of which include:
Your All-On-4 prosthetics will be affixed in your mouth permanently. This means you will be more likely to take better care of your teeth because they can be cleaned just like regular teeth. You will never need to remove your denture.
Prosthetics that feel completely natural and look just like normal teeth, allowing you to feel more confident in your appearance.
The ability to embrace greater chewing power so that you can eat all your favorite foods without worrying about a traditional denture slipping or falling out.
The ability to prevent jawbone loss because your implants will continue to stimulate the bone and keep you looking more youthful.
All-On-4 vs. Traditional Dental Implants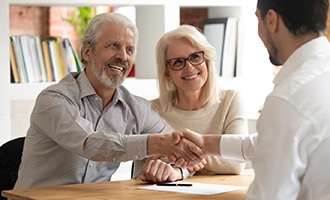 While it may seem that All-On-4 and traditional dental implants in Massapequa are not all that different, the truth is that many factors make them truly unique. With traditional dental implants, you may require up to 8 implant posts, whereas All-On-4 only requires 4. This can save you valuable time and money on your treatment. All-On-4 also does not require that you undergo a bone graft before implant surgery, allowing you to start enjoying your new smile much quicker. Lastly, All-On-4 will allow you to receive a complete denture the same day as your surgery.