Dental Implant Failure and Salvage – Massapequa Park, NY
Saving Your Restored Smile
Over 95% of implant patients see excellent results over the long term, with failure being very rare. This is largely because dentists take a number of steps to maximize the odds of success before the surgery even begins. However, the fact remains that implant failure can and does happen, and it's important to be aware of the possible causes, the symptoms, and the treatments available. Are you worried about your dental implants? Call South Shore Dental Care today to set up an appointment with Dr. Dory Stutman or Dr. Khalida Stutman to discuss the possibility of implant salvage.
Why Choose The Luminous Smile at South Shore Dental Care for Dental Implant Salvage?
Dental Implant Procedures Performed In-House
Transparent Treatment Plans at Reasonable Fees
The Latest in Cutting Edge Dental Technology
Why Do Dental Implants Fail?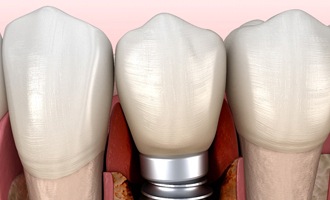 Most of the time, implant failure can be attributed to peri-implantitis, which is an infection of the tissue around the post. Implants need to bond with the jawbone in order to stay in the mouth; if the tissue holding them in place starts to deteriorate due to harmful bacteria, eventually they can come loose and may have to be removed altogether. Peri-implantitis may occur as a result of poor oral hygiene, but there can be other contributing factors such as a dry mouth.
Implants can also fail if:
The osseointegration process fails to create a bond between the implant and the jawbone
The patient suffers a blow to the face or head
The patient has a medical condition that prevents the body from being able to support dental implants
Symptoms of Failed Dental Implants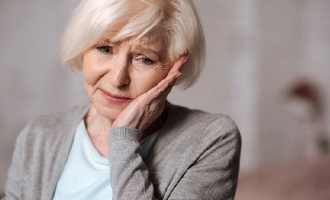 Dental implant failure can occur shortly after the posts are surgically placed in the mouth, but it may also happen at any point after successful osseointegration due to various factors. In fact, some people experience implant failure decades after the initial surgery. So even if your implants are successful at first, you still need to be aware of the risk factors for failure as well as the warning signs of any problems that might occur.
The symptoms of early implant failure aren't much different from those of late implant failure. You might notice:
Unusual or severe pain that goes beyond the discomfort that would normally be expected after implant surgery
An implant post that feels loose (which could either point to a problem with the restoration or the implant itself)
Bleeding, swelling, and pus around the implant
Having difficulty chewing even after receiving the final restoration
How Dental Implant Salvage Works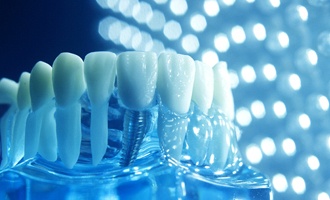 You should make an appointment with us right away if you think your implant might have failed. We will consider your symptoms, examine your mouth carefully, and consider different treatment options. Sometimes all that's needed is a deep dental cleaning and other treatments for an infection; if intervention starts early enough, we may be able to restore your oral health before your implant is compromised. If the implant or the surrounding tissue are too badly damaged, we may have to take out the post in order to treat the problem. In many cases, we'll be able to place a new dental implant later.