Oral Cancer Screenings – Massapequa Park, NY
Early Intervention Could Save Your Life
Cancer. That's one frightening word. But, when combined with one other word—screening—the results can be life-saving. At South Shore Dental Care, we perform an oral cancer screening for each one of our patients' dental checkups. Why? Because when oral cancer is found early, the disease is highly treatable and often curable.
Oral Cancer Statistics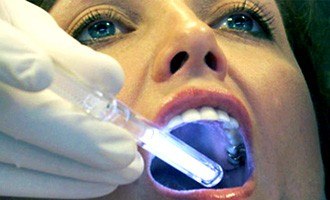 Oral and pharyngeal (throat) cancers are diagnosed in approximately 50,000 adults in the United States each year. Of those 50,000, only about 50% will be alive in five years. A person dies of oral cancer every hour of every day—that's more than 9,500 deaths annually. Sobering statistics and all the more reason to get regular oral cancer screenings in Massapequa Park.
The Signs and Symptoms of Oral Cancer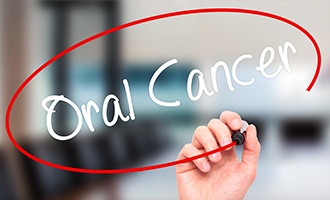 While our dental hygienists are trained to recognize the subtler signs of oral cancer, we want our patients to know the early warnings signs, too. That way, you can be on the lookout for any suspicious development during the months between your dental checkups. Of course, if you notice anything of concern, then don't wait for your next appointment. Call South Shore Dental Care to schedule a visit.
The early signs and symptoms of oral cancer are:
A sore in your mouth or on your tongue, gums, or lips that has failed to heal for more than two weeks
A lump on the surface or within any soft tissue
A red or white lesion in your mouth that can be smooth or scaly
Difficulty chewing or swallowing
A long lasting sore throat or hoarse voice
Ear pain
Feeling like something is caught in your throat
Ill-fitting dentures
A spot in your mouth that feels numb
Oral Cancer Screening Steps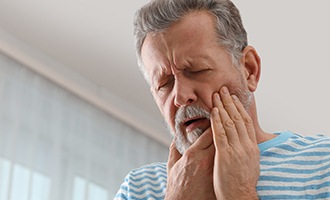 Screening for oral cancer combines a visual and tactile check of your face, jaw, and mouth. Our dentists and their staff will look at your face to check for any newly developed asymmetry that may indicate the development of an underlying oral cancer. Then, we'll carefully palpate your neck, jaw, and upper shoulder area to feel for any lumps. Finally, we'll examine your entire oral cavity to spot any of the visual signs of oral cancer. We'll look at the insides of your cheeks, your palate, and the floor of your mouth. To get a good look at your tongue, we'll check the top, underside, as well as the sides. We'll also have you say "ah" so we can more clearly see the back of your throat.
Of course, if we find anything suspicious, we will help you get a proper diagnosis and treatment as soon as possible.
An oral cancer screening can be a lifesaver. If it's time for your regular dental checkup at South Shore Dental Care, please contact our office today.