Full Mouth Reconstruction – Massapequa Park, NY
Repair Your Smile Top to Bottom
When you look at your teeth in the mirror, do you wish you could magically remake your smile? Some patients have so many damaged, decayed, or worn-down teeth that they feel like just giving up. However, it's never too late to pursue a healthy, functional smile! If you have multiple dental issues you want to address, one simple treatment may not be enough. However, with full mouth reconstruction in Massapequa, we can combine various restorative and cosmetic services into a personalized plan to rejuvenate your smile. Keep reading below learn to more about this service or contact our office for an initial consultation.
Is Full Mouth Reconstruction Right for Me?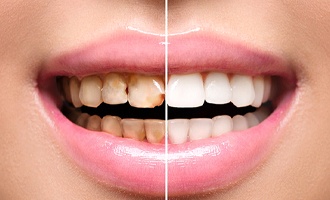 Full mouth reconstruction improves the health, function, and appearance of teeth. The exact combination of restorative and cosmetic procedures used varies from patient to patient depending on each person's unique dental needs and goals. You may be a candidate for a full mouth reconstruction if your teeth have experienced severe damage or decay, or if you have multiple aesthetic flaws. No matter the state of your teeth, our experienced dentists can help you reclaim a confident, functional smile and boost your oral health.
The Full Mouth Reconstruction Process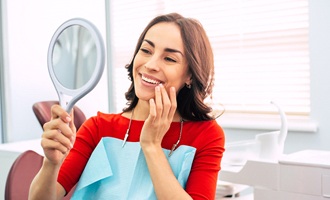 Every full mouth reconstruction begins with an initial consultation. During this first visit, your dentist will carefully examine your teeth, take any necessary X-rays, and ask about your personal smile goals. With this information, they will then create a custom treatment plan. At South Shore Dental Care, we use digital smile design technology to create an accurate mock-up of what your teeth will look like after a full mouth reconstruction.
Depending on your unique needs, your personalized treatment plan may involve some combination of the following procedures:
Dental Implants
Tooth-Colored Fillings
Full & Partial Dentures
Dental Crowns and/or Bridges
Veneers
Root Canals
Extractions
Because every person's circumstance is different, there is no standard timeline for a full mouth reconstruction in Massapequa. The length of your treatment will depend largely on the different procedures involved. For example, a dental filling can be placed in a single visit, while dental implants require multiple appointments over the course of several months.
Understanding the Cost of a Full Mouth Reconstruction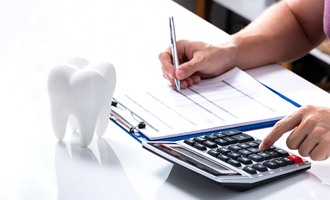 The full mouth reconstruction process is highly customizable. The overall cost will depend on your unique situation and which treatments are needed to repair your smile. At South Shore Dental Care, we offer multiple routes to affordable restorative care. Not only do we accept most major dental insurance policies, but we also offer an in-house membership plan! For one low annual fee, you get all the preventive care you need for a year plus discounts on all other treatments. Flexible dental financing is also available. You can count on our dentists in Massapequa to be transparent regarding how much you should expect to pay for each step of your full mouth reconstruction. Feel free to contact us at any time if you want further clarification regarding costs and payment options.