Dental Implants — Massapequa Park, NY
Rebuild a Beautiful Smile for Life!
Despite new innovations in dentistry, 120 million Americans are missing at least one tooth. Whether from decay, trauma, disease, or extraction, you have many options to replace your missing teeth. As an alternative to traditional treatments, dental implants in Massapequa Park are now the patient-preferred solution. They replace the entire structure of a tooth, allowing you to enjoy the next best thing to what nature gave you.
Why Choose The Luminous Smile at South Shore Dental Care For Dental Implants?
Entire Dental Implant Treatment Completed Under One Roof
State-of-the-Art Dental Technology for Precise, Lasting Results
Fair, Reasonable Fees with No Surprises
What Are Dental Implants?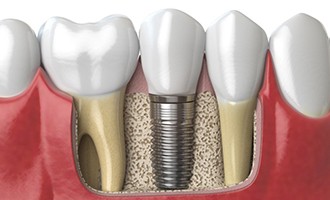 Traditional dental crowns, bridges, and dentures replace your missing tooth (or teeth), but they don't do anything to replace your missing root(s). Dental implants are different. They're actually structured like a natural tooth with a crown on top and a titanium post underneath. Dental implants use these titanium posts to act as tooth roots, holding a custom-made and custom-shaded crown, partial, or even full denture in place. When you rebuild missing teeth from the roots up, the result is a beautiful, comfortable smile that looks, feels, and acts just like natural. That's why dental implants are widely seen as the gold standard for tooth replacement
4 Step Dental Implant Process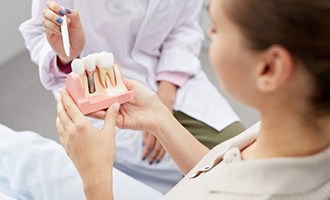 The dental implant process begins with a consultation in our office. If we determine that you're a candidate, we'll outline the course of your treatment, including preliminary procedures, the implant placement surgery, and the installation of restorations. All in all, your implant journey may take anywhere from a few months to a year. However, it will all be worth it to see a beautiful, full set of teeth smiling back at you in the mirror.
Initial Dental Implant Consultation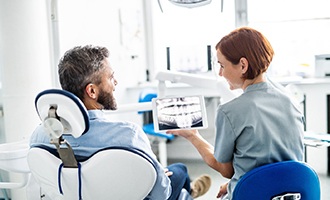 During your implant consultation with your dentist in Massapequa Park, our team will conduct a thorough evaluation of your mouth. We'll also ask you about your habits, goals, and overall health and answer any implant questions you may have. We'll inform you of the specific steps you need to take on your journey to a fuller smile. Some patients require preliminary procedures, like a bone graft or periodontal therapy, before they can receive dental implants. Others can proceed directly to the implant placement surgery.
Dental Implant Surgery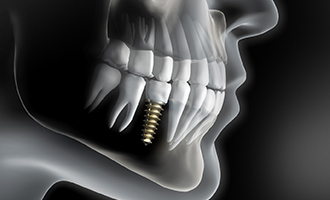 We can perform your implant placement procedure right here in our office, so you don't have to be referred to an outside specialist. In this minimally invasive procedure, we will create a small incision in the gum tissue and strategically insert the implants throughout the jawbone. We'll make sure you feel minimal discomfort during the procedure, thanks to sedation and local anesthetic. Once the implants have been placed and the incision is closed, your body will start the process of osseointegration.
Dental Implant Osseointegration/Abutment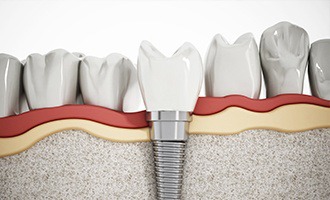 "Osseo" means "bone," so osseointegration refers to your jawbone growing around and becoming one with your implant posts over a period of a few months. The implant will essentially become a part of your own anatomy, creating a sturdy bond that will stand the test of time. After osseointegration is complete, we'll place an abutment over your implant. An abutment is a metal connector piece on top of which we can place your implant-retained crown, bridge, or dentures, depending on how many teeth you're missing.
Delivery of Dental Implant Restorations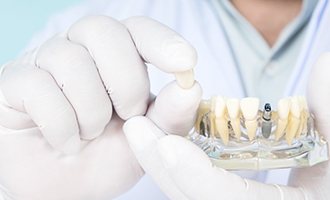 The last portion of your implant journey is the most exciting – it's when you receive your brand-new teeth! We will design a custom-made restoration that will attach to your abutments. Once your prosthesis arrives to our office from the dental lab, we'll give you a call to let you know that your new teeth are ready to be a part of your smile. At your appointment, we'll make sure your restoration provides you with a comfortable, powerful bite and adjust it as needed. Then, you can go out and live your life with all the benefits of a smile restored by dental implants in Massapequa Park.
Benefits of Dental Implants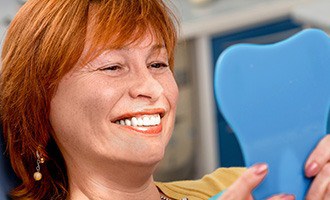 When learning more about the capabilities of dental implants, it's hard to deny the clear advantages that come with this unique and superior form of tooth replacement. Unlike dentures and fixed bridges, you have the opportunity to embrace a better quality of life, preserve your jawbone, and maintain better oral health with an easy-to-clean solution. At South Shore Dental Care, our team of experts is here to not only perform the entire procedure in-house but also make sure your new smile looks and feels completely natural when put into place.
With a 98% success rate upon initial placement and a 90-95% success rate after 10 years, you simply cannot deny the outstanding benefits of dental implants in Massapequa Park.
Day-to-Day Benefits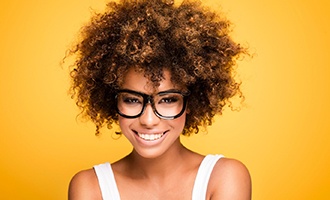 If you recently preferred to hide behind your hands while smiling, you'll no longer need to do so because of your ability to feel confident in your appearance. Dental implants in Massapequa Park make it possible to embrace a better quality of life and enjoy being surrounded by family, friends, and colleagues.
Eating your favorite foods (even those hard in texture) will no longer be an issue. Denture-wearers often have to forgo certain foods because of the potential damage they can cause to the denture materials; however, with dental implants, you can eat freely and never worry about your prosthetic slipping or falling out of place.
You'll enjoy better oral health not only because your implants act like regular teeth and can be brushed, flossed, and rinsed just like the rest of your smile, but you'll notice it is a much less time-consuming experience.
Health Benefits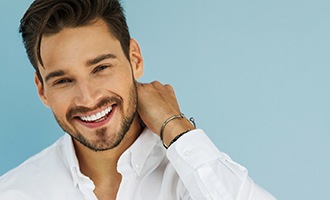 There are currently more than 120 million people missing at least one tooth. One study found in Dentistry Today states that individuals over the age of 65 with 5 or more missing teeth are more likely to have problems with diabetes, cardiovascular disease, and osteoporosis. By opting for dental implants to replace your missing teeth, you can minimize your risk for common health problems and prolong your life!
When one or more of your tooth roots are missing, your jawbone naturally disintegrates. Over time, this can lead to the loss of other teeth. Dental implants help support your oral health by replacing your missing roots. As a result, new bone growth is stimulated, and the jaw retains its stability and function.
Because traditional tooth replacements don't restore your missing roots, your smile will continue to change over time. As a result, dentures can slip or become loose, causing embarrassing situations and a loss of function. Dental implants replace your missing roots, encouraging new bone growth in your jaw and ensuring your bone loss comes to a halt.
Long-Term Benefits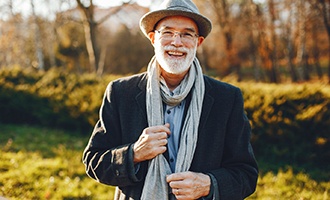 Dental implants can last a lifetime if properly cared for, which involves nothing more than how you maintain your natural teeth. Just be sure you follow a regular brushing and flossing routine while also visiting your implant dentist in Massapequa Park at least twice a year.
You will save more money in the long run by choosing dental implants because you will not have to pay for adjustments or replacements every 5-10 years, dental adhesives to keep your prosthetic in place, or special cleaning solutions to maintain your new smile.
Who Dental Implants Can Help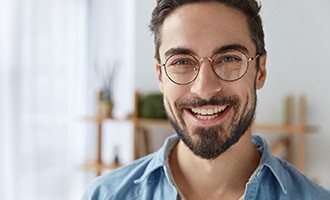 No matter how many teeth you're missing, dental implants can help you regain your complete, confident smile. This versatile treatment can just as easily replace one missing tooth as it can several or an entire arch! During your initial consultation we'll evaluate the extent of your tooth loss and review all your options. However, first we'll ensure that you're a good candidate for dental implants. While most healthy adults can get dental implants, there are times when preliminary treatments are needed to ensure the success of your new smile.
Who Is a Good Candidate for Dental Implants?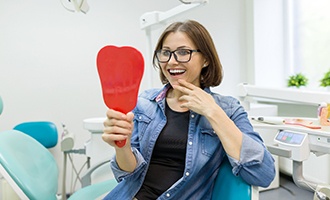 Thanks to modern dental technology and techniques, practically ayone with missing teeth can improve their smile with dental implants. However, to be considered a "good candidate," you'll need to have three key things:
Great oral health
Good overall health
Adequate jawbone density
Once we've helped you meet these criteria, we can begin planning your dental implant treatment. There are several different types of dental implants we'll help you choose from depending on how many teeth you're missing:
Missing 1 Tooth
If you are missing only one tooth, a single dental implant can be used to replace it. It consists of one titanium post (implant), a metal abutment, and a customized dental crown. Unlike a fixed bridge that can replace a missing tooth but requires filing down your natural teeth to allow for proper placement of the restoration, there is no need to alter your healthy teeth when seeking treatment with a single tooth dental implant.
Missing Multiple Teeth
If you are missing two more consecutive teeth along the top or bottom row of teeth, our team can create a custom-made bridge that will be anchored to your jawbone using an implant post at either end. Offering greater stability, functionality, and improved bone stimulation, an implant-retained bridge will have you enjoying a longer-lasting smile that looks and feels completely natural. Just like a single tooth implant, there will be no need to alter or touch your natural, healthy teeth to put your implants in place.
Missing All Teeth
If you are missing all your teeth along the top and/or bottom rows, you don't have to settle for traditional prosthetics like dentures to regain your smile. Instead, we can offer implant dentures that are secured into place using anywhere from 4 to 8 dental implant posts. After ensuring your jawbone is durable enough for implant placement, we can surgically put them into place and create a solid foundation before attaching your custom-made denture.
Learn More About Implant Dentures
Learn More About All-on-6 Implants
Learn More About All-on-4 Implants
Understanding the Cost of Dental Implants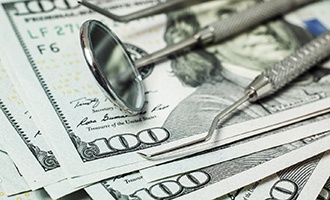 There is no set cost for dental implants because the amount you pay is based on your individual treatment plan. We take into account many variables when calculating the price, including the number of implants you are getting, the type of restoration needed, and other factors. When you meet with Dr. Dory or Dr. Khalida, we will put together a personalized treatment plan and be able to discuss the finances of your specific case for dental implants in Massapequa.
Preliminary Treatments & Dental Implant Surgery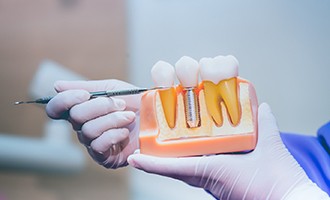 Do you need to undergo gum disease therapy prior to implant placement? Do you require a bone graft? These preliminary procedures ensure that your dental implants have the best possible chances of success, but they also come with a separate cost from the implant placement itself. Then, when we're ready to surgically insert the implant posts, the cost of this procedure depends on the number of implants you're getting, whether you receive sedation, and more.
The Parts of Your Dental Implant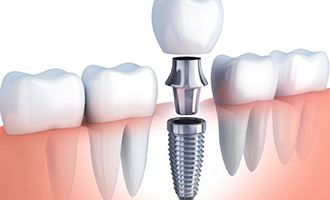 When you buy a car, you have to consider the make and model, or the brand you're buying. The brand can give you various features you may be looking for in particular and therefore have differing costs from other brands. In terms of your dental implants, the brand can also have an impact on how much you pay for your replacement teeth. When we fully assess your smile, we can determine which implant brand will best meet your needs and give you a more accurate estimate.
How Dental Implants Can Save You Money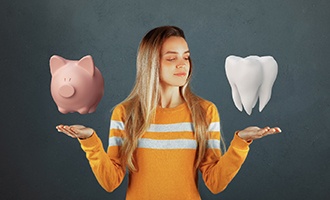 Although implants may seem like a huge investment initially, they often prove to be a wise long-term financial decision. More traditional replacement restorations like dentures or bridges last only a fraction of the time that dental implants do. Every few years, you must pay the price of replacing dentures or bridges, and the cost adds up fast! Meanwhile, you could go 25 years or longer with implants, potentially saving you money over time.
Does My Dental Insurance Cover Dental Implants?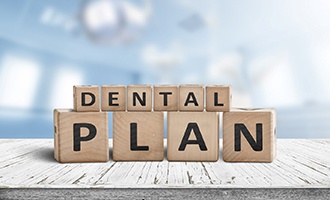 In some cases, your dental insurance can pay for certain aspects of your treatment. For instance, most insurance plans cover the restoration and necessary preliminary work. However, the main portion of dental implants treatment is not typically included in these benefits. We can help you understand the benefits you're entitled to and maximize the value of your policy to reduce the amount you pay out-of-pocket.
Making Dental Implants Affordable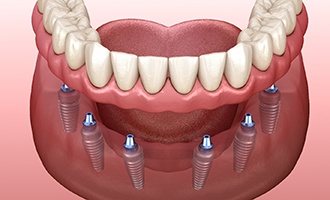 At the Luminous Smile at South Shore Dental Care, we believe that everyone who needs and wants dental implants should be able to afford them. We accept a variety of payment options to cover any remaining balance after insurance. For instance, we accept financing through CareCredit and Springstone, two trusted financing companies. In addition, if you do not have dental insurance, you can enroll in our membership plan, which offers a 20 percent discount on most of our dental services.
Dental Implant Technology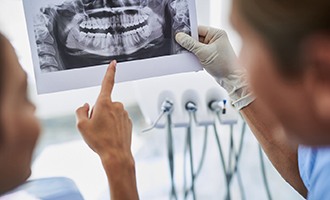 Accuracy is everything when it comes to placing dental implants, which is why we always make sure we're using the best tools available to ensure a successful surgery. With our cone beam CT scanner, we can create a digital model of your mouth that lets us plan the procedure ahead of time and identify potential obstacles. And thanks to our surgical microscope, we'll have a clear view of the area to ensure accuracy.
3D Cone-Beam CT Scanning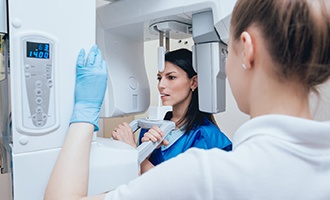 A traditional X-ray sometimes doesn't give us all the information we need, which is why we use dental cone beam CT (computed tomography). A special X-ray machine rotates around your head and creates up to 200 high resolution images of the inside of your mouth at multiple angles. We can combine these images using a special software in order to create a 3D digital model of your oral cavity. This allows us to examine in great detail the various dental structures, soft tissues, nerve paths and bones that could all influence the success of dental implants. The scans are safe and comfortable; no radiation is left in the body afterwards.
This technology allows for extremely accurate dental implant placement and allows us to plan for potential obstacles ahead of time. For example, we might find a nerve that's close to the implant site; damaged nerves are a major cause of dental implant failure. With the model create by cone beam CT, we can avoid this complication. As a result, procedures that use cone beam technology tend to be more successful than those that rely on traditional X-rays.
Surgical Microscope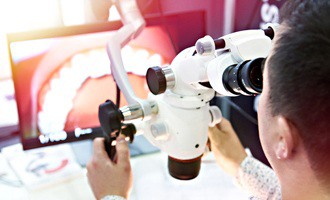 Dental implants are 3 to 6 millimeters in diameter, and these tiny posts need to be inserted into your jaw at just the right spot. For patients with particularly small mouths, this does not leave much room for error. Luckily, it's easier to work in such a small space when we use a surgical microscope. This device gives us a clear view of the working area and allows us to completely focus on the task at hand while still allowing us to stay in a comfortable position. The enhanced visualization is especially useful when the gap between your teeth is very small.
There are other applications for this device as well. For example, we can use it to make sure that the crown, bridge or dentures that your dental implants support fit properly; if your prosthetic teeth are the wrong size, it could lead to discomfort and unnecessary damage down the road. The microscope can also alert us to unhealthy marginal tissues around the implant site; that way, we can treat infections and other problems before they can disrupt the dental implant integration process.
Dental Implant FAQs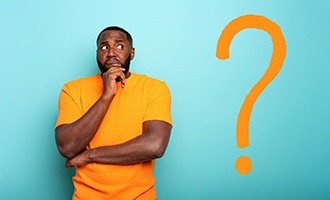 Replacing your missing teeth with dental implants is a big decision, so it's natural to want to learn more before deciding to invest in your treatment. We will be more than happy to address all of your specific questions and concerns during your initial consultation so you will know exactly what to expect before deciding to move forward with dental implants. In the meantime, we encourage you to look over the following dental implant FAQs and give us a call to learn more!
How Many Teeth Can Dental Implants Replace?
It is commonly believed you can only replace a single tooth, but this is not true. Dental implants in Massapequa Park can treat all cases of tooth loss if you are a candidate; however, the treatment process varies slightly. A single tooth is treated using an implant post, an abutment, and a crown. If you are missing several or all your teeth, each tooth is not replaced individually. Instead, a specific number of posts are used to anchor your bridge or denture to your jawbone.
Can I Get Dental Implants If I Lost My Teeth a Long Time Ago?
The long-term success of dental implants depends largely on your jawbone's ability to fuse to the titanium implant post. Unfortunately, the jawbone naturally starts to deteriorate after tooth loss and as a result of severe periodontal disease. However, that doesn't mean you can't become a good candidate for dental implants. Treatments like bone grafting can help strengthen your jawbone enough so it can support your dental implants. We will determine if you have adequate jawbone density during your initial consultation with our 3D cone beam scanner and work with you to plan any necessary treatments.
How Long Does It Take to Get Dental Implants?
Your treatment is performed in multiple stages, which is necessary to ensure the success of your smile. You may need additional procedures before getting started, like tooth extractions or bone grafting. The first step involves surgically placing dental implants into your jawbone. The surgery is performed in a single day, but you will need to spend the next several months healing. The implant posts stimulate new bone growth, allowing your jaw to fuse to them through a process called osteointegration.
After your jawbone is healed, your implant dentist in Massapequa Park will need to perform a second minor surgery to place your abutments. These special fixtures connect your restorations to your posts. Often, it only takes a few weeks for your gum tissue to heal before your custom-made restoration can be attached.
Can Dental Implants Fail?
Dental implants are the most successful tooth replacement option, but they can fail. Generally, the risk of dental implant failure is less than 5%. You can help to ensure your new smile lasts by choosing a qualified and experienced dental team to handle your procedure. You can protect your investment by maintaining your oral hygiene at home and avoiding tobacco. Do not forget to visit your dentist at least twice a year for a cleaning and checkup.
Are Dental Implants Safe?
For the overwhelming majority of patients in good general and oral health, dental implant placement is an incredibly safe procedure. It becomes even more so thanks to the advanced technology that we use here at South Shore Dental Care. Our 3D cone beam scanner allows us to plan out precisely where to place the implants ahead of time, and our surgical microscope minimizes the risk of human error during the procedure itself.
The risk of post-op complications following dental implant surgery is low, but they become more likely if patients have certain medical conditions, such as diabetes or autoimmune disorders. That's why our team will review your medical history during your consultation and take actionable steps to reduce your risk.
Am I Too Old to Get Dental Implants?
Believe it or not, there is no maximum age at which you can receive dental implants. Once the jawbone has finished developing (usually by the time a person has reached their mid-twenties), age doesn't directly impact dental implant eligibility.
With that being said, people of advanced age may be more likely to have additional health conditions that could complicate the treatment. For example, many medications that seniors commonly take can cause dry mouth as a side effect, which increases the risk of gum disease and, subsequently, dental implant failure. This is why an initial consultation is important; it gives our team a chance to evaluate your overall health status and come up with a personalized plan to make your treatment as safe and effective as possible.
What Should I Do If My Dental Implant Feels Loose?
After your implant has been placed, it should immediately begin the process of integrating with the bone and tissue in your jaw. Therefore, it should never feel loose. In some cases, the restoration attached to the top of the implant might be what's loose, rather than the implant itself. Just to be on the safe side, please call our office as soon as you notice any feelings of instability near your implant. The sooner you reach out to us, the more likely we are to successfully perform dental implant salvage and prevent your new tooth from failing.
Will People Be Able to Tell That I Have Dental Implants?
Not unless you tell them! Dental implants are designed to look and feel exactly like your original teeth. The prosthetic teeth attached to them are custom-made from impressions taken of your mouth, so they should complement your overall appearance and look remarkably lifelike. Additionally, your new teeth won't shift around; you won't need to hold your jaw in a strange way to prevent slippage like denture wearers often do.
Maintaining & Caring For Your Dental Implants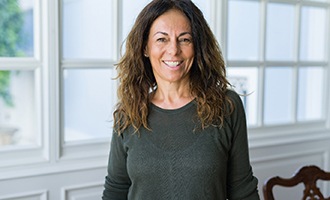 Once your dental implants are firmly in place, you'll be eager to start enjoying your new smile. While this is perfectly acceptable, you'll also need to be aware of how to maintain your artificial teeth, so they last as long as possible. Proper dental implant care in Massapequa Park is essential, which is why our team at South Shore Dental Care is here is to provide you with the necessary information and tips to keep your new teeth looking and feeling their best year-round. If you have any questions about what you see below, contact us today.
Making Oral Hygiene a Priority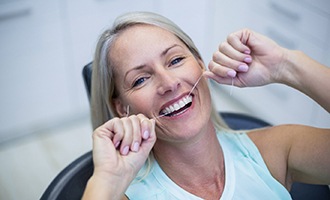 The American Dental Association (ADA) recommends that you brush twice a day for two minutes, floss at least once a day before bed, and rinse with an ADA-approved mouthwash. These steps are designed to curb tooth decay, cavities, and gum disease. Although your dental implants in Massapequa Park cannot decay, they can be plagued by the effects of decay on nearby teeth as well as periodontal disease. To avoid gum inflammation, bleeding, the potential breakdown of your jawbone, and possibly, dental implant failure, you'll need to maintain optimal oral hygiene every day.
Eating a Healthy Diet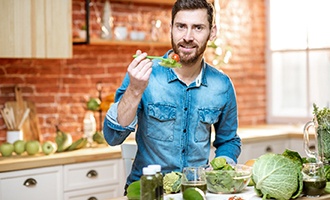 If your diet consists of potato chips, pasta, white bread, candy, and other sugary sweets, it's time to make some significant changes. Unhealthy foods that contain sugar and starch can lead to serious problems with tooth decay, cavities, and gum disease. However, fruits, vegetables, lean proteins, foods high in calcium and Vitamin C, and leafy greens are beneficial to your waistline and your smile. Not only can these healthy alternatives improve your gum health, but they can also strengthen tooth enamel. Your dental implants may not develop cavities, but these foods can certainly create a healthier environment for your artificial teeth to subside.
Breaking Bad Habits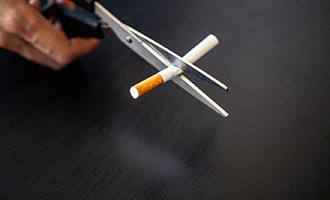 No matter your particular vice, bad habits come in all shapes and sizes. Smoking, tobacco use, chewing on inanimate objects, eating ice, biting your fingernails, or grinding your teeth can damage your dental implants, leaving you with a broken smile. Your investment in this type of tooth replacement should not be jeopardized because of a few unhealthy habits. Making sure you stop before receiving dental implants is best, but if you need help to identify ways to curb your habits after your implants are in place, talk to our dental team today for helpful tricks (i.e., chewing on sugar-free gum, looking for cessation groups and resources).
Protecting Your Dental Implants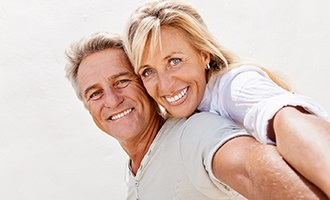 Whether you enjoy playing sports or suffer from added stress that causes you to grind your teeth while you sleep, a customized mouthguard is a worthwhile investment. This unique device fits comfortably inside your mouth and protects you from a hard hit on the field or track. It also minimizes the contact between your teeth, reducing excessive wear and tear on your tooth enamel. Not to mention, your jaw joints and temporomandibular joints (TMJ) will be under less pressure.
Scheduling Regular Dental Checkups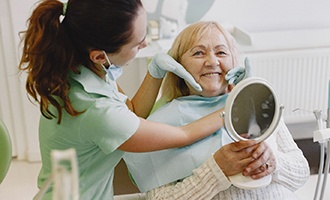 Your implant dentist in Massapequa Park is your greatest ally in helping you maintain your dental implants. Because these prosthetics are versatile, costly, and life-changing, keeping your regular six-month dental checkups and cleanings allows us to examine your smile as a whole while also evaluating the functionality and longevity of your new smile. Should we discover problems early on, there is a better chance of us fixing them before they get too out of hand.