KöR Teeth Whitening – Massapequa Park, NY
Whitening Smiles in Less Time
If you are looking for a solution to whiten your smile, don't bother making a trip to your local drug store. Their aisles are usually filled with overpriced products that promise whiter smiles but fall short in delivering high-quality results. Instead, invest in a more worthy solution that guarantees a safe and effective approach and produces an outstanding, longer-lasting smile – KoR whitening in Massapequa Park. At South Shore Dental Care, Dr. Stutman and his team will give you a whiter, brighter smile that has you quickly filling up your social calendar. Contact us today to schedule an appointment and find out how you can get started with KoR teeth whitening.
How KoR Teeth Whitening Works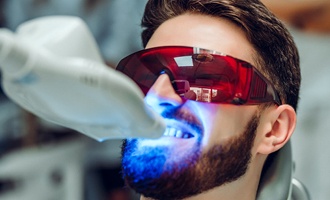 KoR teeth whitening uses a combination of in-house treatment and at-home kits. Depending on your individual case and needs, our team will work to create a personalized treatment plan that ensures you achieve dramatic results that fully eliminate any stains or discoloration from your teeth.
As part of the in-office process, your cosmetic dentist in Massapequa Park will apply a powerful bleaching gel to the surface of your teeth, working to blast away stains and leaving you with a whiter smile in around an hour. The at-home kits use customized dental trays that fit comfortably in your mouth while the high-grade bleaching gel works to improve and enhance your smile, producing results in as little as two weeks.
Who Are Good Candidates for Teeth Whitening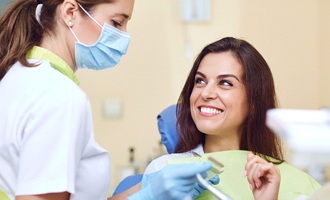 If you find that any of the following qualifications apply to you, teeth whitening might just be the right solution for your dental needs:
Surface or deep-down stains that cannot be removed with traditional whitening toothpaste
Stains caused by certain medications taken as a child
You desire a whiter, brighter smile that lasts longer than products found in your local drug store can provide
One of the great aspects of KoR teeth whitening is that it contains a desensitizing agent, making it less likely for you to experience tooth sensitivity as a result of your teeth whitening procedure.
Benefits of KoR Teeth Whitening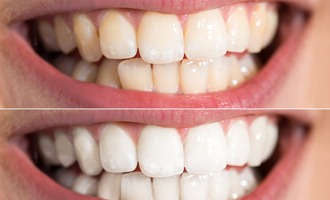 Results that are even and aesthetically pleasing
A personalized treatment plan that proves safe and effective
A smile that is up to 8 shades brighter than before
Customized whitening trays that are made to comfortably fit in your mouth
Easy touch-ups that require little time
Maintaining Your Results
After you have completed your in-office and at-home whitening treatment, you will need to take the following steps to ensure your results last as long as possible:
Continue to brush your teeth twice a day for two minutes and floss at least once a day
Keep your regularly scheduled six-month dental appointments
Avoid consuming any stain-causing foods or beverages
Chew sugarless gum to keep from chewing on inanimate objects or ice
Make sure to rinse your mouth after eating anything that could cause potential staining if you are unable to brush your teeth