KöR Teeth Whitening – Massapequa Park, NY
Whitening Smiles in Less Time
If you are looking for a solution to whiten your smile, don't bother making a trip to your local drug store. Their aisles are usually filled with overpriced products that promise whiter smiles but fall short in delivering high-quality results. Instead, invest in a more worthy solution that guarantees a safe and effective approach and produces an outstanding, longer-lasting smile – KoR whitening in Massapequa Park. At South Shore Dental Care, Dr. Stutman and his team will give you a whiter, brighter smile that has you quickly filling up your social calendar. Contact us today to schedule an appointment and find out how you can get started with KoR teeth whitening.
How KoR Teeth Whitening Works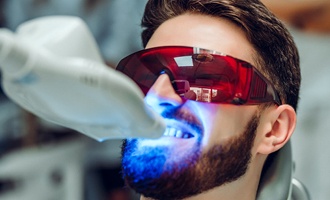 KoR teeth whitening uses a combination of in-house treatment and at-home kits. Depending on your individual case and needs, our team will work to create a personalized treatment plan that ensures you achieve dramatic results that fully eliminate any stains or discoloration from your teeth.
As part of the in-office process, your cosmetic dentist in Massapequa Park will apply a powerful bleaching gel to the surface of your teeth, working to blast away stains and leaving you with a whiter smile in around an hour. The at-home kits use customized dental trays that fit comfortably in your mouth while the high-grade bleaching gel works to improve and enhance your smile, producing results in as little as two weeks.
Who Are Good Candidates for Teeth Whitening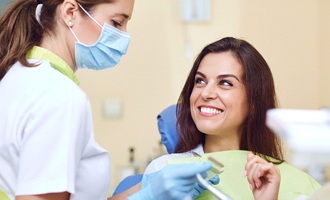 If you find that any of the following qualifications apply to you, teeth whitening might just be the right solution for your dental needs:
Surface or deep-down stains that cannot be removed with traditional whitening toothpaste
Stains caused by certain medications taken as a child
You desire a whiter, brighter smile that lasts longer than products found in your local drug store can provide
One of the great aspects of KoR teeth whitening is that it contains a desensitizing agent, making it less likely for you to experience tooth sensitivity as a result of your teeth whitening procedure.
Benefits of KoR Teeth Whitening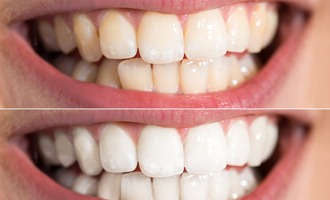 Results that are even and aesthetically pleasing
A personalized treatment plan that proves safe and effective
A smile that is up to 8 shades brighter than before
Customized whitening trays that are made to comfortably fit in your mouth
Easy touch-ups that require little time
Maintaining Your Results
After you have completed your in-office and at-home whitening treatment, you will need to take the following steps to ensure your results last as long as possible:
Continue to brush your teeth twice a day for two minutes and floss at least once a day
Keep your regularly scheduled six-month dental appointments
Avoid consuming any stain-causing foods or beverages
Chew sugarless gum to keep from chewing on inanimate objects or ice
Make sure to rinse your mouth after eating anything that could cause potential staining if you are unable to brush your teeth
KöR Teeth Whitening FAQs
One of the simplest yet most dramatic ways to improve your smile is with KöR teeth whitening Massapequa Park. This professional-grade treatment delivers results that you just cannot achieve with store-bought whitening products. Even though you're likely excited to turn back the clock on your smile, we know you probably have a few questions. We'll gladly answer any of your questions during your appointment, but until then, we encourage you to read the answers to the teeth whitening questions we get asked the most often.
Will KöR Teeth Whitening Damage My Teeth?
If a teeth whitening product has earned the American Dental Association's Seal of Acceptance (like KöR whitening has), it has been deemed perfectly safe and effective at brightening smiles when administered by a professional like our dentists. Many over-the-counter whitening solutions contain ingredients that irritate the gums and/or tooth enamel, leading to painful sensitivity. As mentioned earlier, the KöR bleaching gel contains an agent that minimizes sensitivity, making it perfectly safe and comfortable.
Does KöR Teeth Whitening Work on Artificial Teeth?
Unfortunately, the chemicals in teeth whitening solutions are not designed to change the color of dental work such as crowns, veneers, or fillings. We may suggest replacing your restorations after your teeth whitening treatment to ensure your entire smile is one even shade.
Will My Dental Insurance Cover KöR Teeth Whitening?
In most cases, dental insurance will NOT cover teeth whitening because it is considered an elective procedure and unnecessary in terms of your oral health. However, our team can take a look at your plan just to make sure you aren't missing out on any benefits.
We also have other options of help you afford your treatment. In addition to accepting traditional methods of payment, we also partner with CareCredit and Lending Club. Both of these third-party companies allow you to apply for one of many flexible payment plans to help fit the cost of your care into your budget. Most of these plans have very low or even zero interest rates for qualified patients!
Can KöR Teeth Whitening Only Remove Stains of a Certain Color?
Believe it or not, tooth stains actually differ based on their color. Teeth whitening treatments are most effective at correcting yellow or brown stains that were caused by enamel thinning, tobacco use, coffee consumption, etc. However, blue-gray tooth discoloration may not respond right away, if at all. These stains typically result from certain medications taken younger in life. Because they develop deeper within the tooth, they are difficult to remove, even with our potent bleaching gel. In that case, your cosmetic dentist in Massapequa Park may recommend another treatment to cover the stains, such as veneers or dental crowns.