Implant Dentures – Massapequa, NY
Enjoy a Secure New Smile
Over 30 million Americans wear dentures, but while the traditional prosthetics will still allow you to eat and speak normally, implant dentures in Massapequa are far more stable and do not slip in your mouth; the improved strength and comfort help them feel much more like your natural teeth. Unlike regular dentures that require dental adhesive, specialized cleaning solutions, and frequent adjustments and replacements, you can enjoy a prosthetic that not only remains firmly in place but also improves your oral health. At South Shore Dental Care, we are pleased to offer start-to-finish dental implant placement in our office, allowing you to remain in one location for the duration of your treatment. With more than 500,000 implants placed each year, it's no wonder these unique prosthetics are quickly becoming more and more popular among individuals with tooth loss. If you need to replace all of your teeth at once, contact our office today to ask whether implant dentures are a good fit in your case.
Why Choose South Shore Dental Care for Implant Dentures?
Start-to-Finish In-House Dental Implant Treatment
Advanced Dental Technology to Ensure Accurate Results
Trusted Dental Team with Years of Experience
What Are Implant Dentures?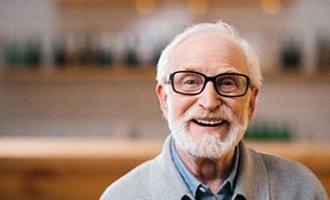 Normally, dentures sit directly on your gums, but they can also be anchored in place by implant posts. Dental implants are made of titanium and have joined with the jawbone through osseointegration. Because of this, implant dentures replace both the visible parts of your teeth and the roots that supported them. These replacement roots stimulate the jawbone, preventing it from breaking down and helping it maintain density. As for your dentures, the security of the dental implants means you don't have to worry about them moving at awkward moments, such as when chewing or speaking to others.
During your meeting with your implant dentist in Massapequa, you will choose between two different types of dentures: fixed or removable.
Fixed/Permanent Implant Dentures
As a hybrid denture that is fixed to your dental implants, only your implant dentist can remove it. This type of prosthetic requires between 4 and 8 implant posts to ensure stability and longevity, and it allows you to enjoy an easier way to clean your teeth in the morning and at night because it acts just like regular teeth.
Removable Implant Dentures
A removable denture, otherwise known as an overdenture, functions similarly to a traditional denture except that it is held in place by a bar-retained or ball-retained device that is attached to your dental implants. Only requiring between 2 and 5 implant posts, you do not need as much jawbone density for this prosthetic. It is also easily removed when preparing to clean it.
The Implant Denture Process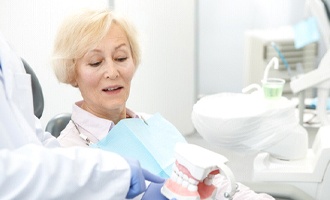 Although receiving implant dentures takes longer than traditional prosthetics, it is well worth the wait! We will first need to arrange a consultation visit so that we can evaluate your oral health as well as your needs. At that point, we can start planning the necessary procedures, which might include bone grafting or periodontal therapy to make sure the jaw is prepared.
During the implant placement surgery itself, which will be performed in-house, we will surgically insert 4 to 8 implant posts into your jaw. After that, it will take 3 to 6 months for osseointegration to occur. Once we're certain that your dental implants have successfully fused with the jawbone, we can place your permanent full dentures.
Am I a Candidate for Implant Dentures?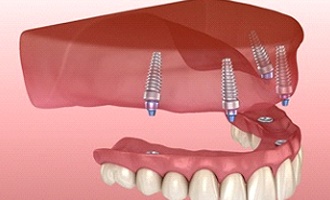 You will need full dentures to replace an entire arch of teeth. If you want them to be supported by dental implants, your jaw will need to be dense enough for osseointegration to be successful. If your jaw has already lost some of its density, we might be able to use bone grafting in order to restore it. Gum disease also needs to be addressed before we can begin the surgery. If you smoke, it could cause complications, but if you follow our directions, you could still potentially be a candidate for dental implant placement. Our team at South Shore Dental Care will also evaluate your overall health to determine if you are healthy enough to undergo minor oral surgery.
Even if you do not believe you will qualify for implant dentures, it's important that you allow us to examine your smile. You may be surprised to learn that most adults with tooth loss are eligible to receive treatment. With the help of preliminary procedures like bone grafting or periodontal therapy, we can take smiles that lack the suitable environment for implants and work to create a safe and strong foundation for your future smile.
Benefits of Combining Dentures & Dental Implants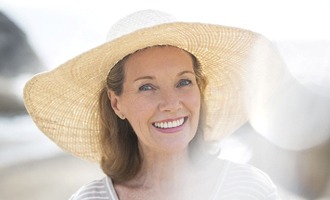 Combining dental implants in Massapequa with dentures offers far greater benefits than those that only sit on top of the gums. Instead of feeling embarrassed by your dentures or constantly passing up opportunities to gather with family and friends, implant dentures can give you a chance to live life to its fullest. Some of the greatest benefits you'll receive by choosing implant dentures include:
The dental implants will help you preserve your jawbone density and maintain bone height.
With the additional stability of implants, your new teeth will have chewing power that's almost the same as natural teeth; this means that you'll be able to eat anything you want.
Your new dentures will be designed to look and feel as natural as possible in your mouth. Many people will not be able to tell the difference.
A dental implant can last for 30 years or even the rest of your life if you take good care of it.