Dory Stutman, DDS
Your Experienced Massapequa Park Dentist
A Long Island native, Dr. Dory Stutman earned his dental degree from the School of Graduate Dentistry at Case Western Reserve University. He completed his general practice residency at MetroHealth Medical Center in Cleveland, OH and a postgraduate program in esthetic dentistry at the University of Buffalo.
Dr. Stutman has been in private practice since 1991 and opened the doors of South Shore Dental Care in 1995. He attends more than 100 hours of advanced dentistry seminars each year, concentrating on cosmetic dentistry, dental implants, and full-mouth reconstruction to repair broken down smiles. He has trained under some of the finest and most well-known dentists in the United States. He is also a clinical consultant for The Dental Advisor, a publication for which he evaluates dental products. His article, entitled "Bonding on Tetracycline Teeth," appeared in the October 2003 issue of Dental Town magazine.
Dr. Stutman is a member of several professional organizations, including the American Dental Association. He is also an accredited member of the American Academy of Cosmetic Dentistry (AACD).
His interest in art and sculpture is evident in the magnificent smiles he creates for patients. He also enjoys travel, Broadway shows, movies, music, dining, sports, and spending time with his family.
Education and Training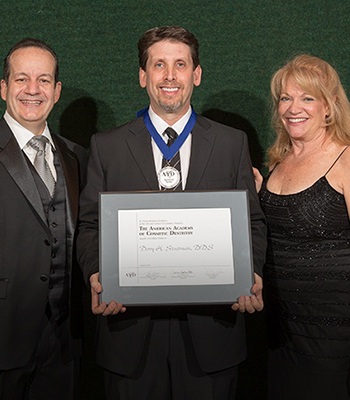 Bachelor's Degree in Biology with a Major in Art, SUNY Plattsburgh
Doctor of Dental Surgery Degree, Case Western Reserve School of Graduate Dentistry
Certificate General Practice Residency, MetroHealth Medical Center
Postgraduate Program in Esthetic Dentistry, State University of New York at Buffalo
Mini- Residency in Porcelain Veneer Smile Design and Placement, Manhattan, New York, under Dr. Norman Feigenbaum
American Academy Of Cosmetic Dentistry Annual Scientific Session

Boston - Annual Scientific Session 2001
Hawaii - Annual Scientific Session 2002
Orlando - Annual Scientific Session 2003
Nashville - Annual Scientific Session 2004
Vancouver - Annual Scientific Session 2005
San Diego - Annual Scientific Session 2006
New Orleans - Annual Scientific Session 2008

Mini-Residency Program for Dental Implants, Montefiore Medical Center

Surgical Placement of Implants

Eight Day Mini-Residency in Implant Dentistry (Nobel Biocare)

Implant Prosthetics
Implant Surgery & Bone Grafting

Basic Implant Surgery for The Restorative Doctor (KSS Seminars, New York)

Hands-on Training and Live Surgery

Advanced Intraoral Bone Grafting for Implant Site Development, Cadaver Training Lab, Baltimore College of Dental Surgery, University of Maryland Dental School (Lee Silverstein)
An Oral Orthopaedic Approach for Management of Cranio Cervical Mandibular Disorders, Dr. Harold Gelb, New York University School Of Graduate Dentistry
Dental Implant Placement and Advanced Implant Site Development, Cadaver Training Lab, Nova SouthEastern University School Of Medicine
Perio-Surgical Skills for the General Practitioner, Perio Institute, New York
Oral Conscious Sedation, Training at NYU
Certifications
Associations