Root Canal Therapy – Massapequa Park, NY
Pain-Relieving Care For Tooth Infections
Do you have a severe toothache that won't seem to go away? This is a common sign of an infection hidden below the surface of your tooth. Root canal therapy in Massapequa Park can treat the infection, preserve your natural tooth, and cure your discomfort all while being virtually painless. Although this treatment has a reputation that makes many patients scared of it, it's not as daunting as you may think. If you have a severe toothache or other signs of an infection, don't hesitate to call our office to schedule an emergency appointment for as soon as possible.
Signs of a Tooth Infection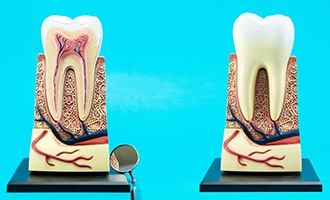 When a cavity goes untreated, it can provide harmful oral bacteria with a passage to the vulnerable inner chamber of your tooth. Within this structure, a cluster of nerves and soft tissue, called the pulp, is housed. When it becomes attacked by bacteria, it can result in a painful toothache that signals a tooth infection. Some other signs that could indicate that you need root canal therapy include:
A pimple-like bump on the gums near your affected tooth.
A foul taste or smell in your mouth.
Swelling or redness around the affected tooth.
Sensitivity to hot or cold temperatures.
Pain and pressure when you bite down.
What Is Root Canal Therapy?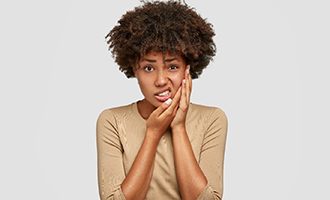 Root canal therapy is a straight-forward procedure that helps you keep your natural tooth while also preventing the infection from spreading and causing additional damage to your smile. The goal is to remove the infected pulp that's causing you pain, sanitize the inside of your tooth, and rebuild the structure of your tooth so you can use it as you normally would.
The Process of Getting A Root Canal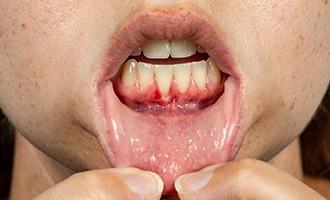 The first step we'll take when you sit down in our treatment chair is administer a local anesthetic to numb the area around the affected tooth. We also offer sedation dentistry if you're anxious or scared when you arrive to our office. This will help you feel relaxed and ensure that you don't feel a thing during your treatment.
We'll gain access to the inner chamber of your tooth to remove the pulp. Once we've sanitized the area to eliminate harmful oral bacteria, we'll fill it with a substance called gutta percha to rebuild the shape and size of it. Finally, to protect and restore the strength of your tooth, we'll place a custom-crafted crown over the top of it. Once the process is completed, you'll be able to use your tooth like you normally would without having to worry about pain or discomfort.