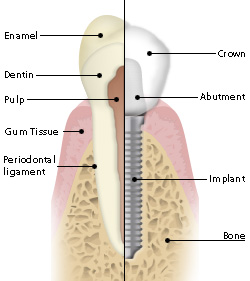 Have you lost one or more teeth as a result of decay or an injury? Are you worried now about losing more teeth? Your concern is understandable. When you lose a tooth, you also lose the root that anchored it to your jaw. And that right there is why you could lose another tooth further down the road.
Here's why.
When you lose a tooth root, the part of your jawbone it used to be in contact with doesn't have a purpose anymore. As a result, it will begin to atrophy. With time, more bone tissue will be affected, increasing your risk of losing one or more healthy teeth.
But there is a way to stop all this.
Preserve Your Smile with Dental Implants
If you're worried about losing more teeth, call South Shore Dental Care to find out how dental implants can help you stop further tooth loss. As one of the most effective restorative dentistry solutions available, dental implants can restore strength and function to your entire smile, including your jaw. They do this by replacing your missing tooth and your missing root, helping your jaw grow new bone tissue and remain naturally strong.
Do you want to find out if dental implants are right for you? Then give our Massapequa dental office a call today. During your appointment, your doctor will have a chance to examine your smile and recommend a treatment plan.
At South Shore Dental Care, Dr. Dory Stutman and Dr. Khalida Stutman happily serve patients Massapequa, Long Island, Merrick, Bellmore, Wantagh, and surrounding areas. We look forward to hearing from you!