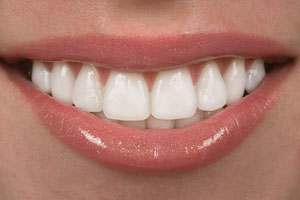 Are you dissatisfied with the appearance of your smile? Are your teeth yellowed, stained or worn? Do you have cracks, chips, or gaps in your smile? Are your teeth crooked, misshaped or misaligned? Any or all of these concerns can be addressed with porcelain veneers from South Shore Dental Care.
Porcelain veneers are thin pieces of high-quality porcelain that are attached to the front of your teeth. This cosmetic dentistry procedure allows us to change the physical appearance of your smile. This is a simple, yet often dramatic, method to improve your smile.
We try to use minimal or no-preparation veneers whenever possible. Traditional porcelain veneers require us to remove some of the tooth structure to accommodate the thickness of the veneers. We prefer to use extremely thin veneer solutions that require little to no removal of tooth structure. This allows us to be conservative with our treatments and keep as much of your existing tooth structure as possible.
We offer Lumineers, DaVinci Veneers, and DURAthins to improve your smile. These are all minimal or no-prep options. The more of your natural tooth structure that remains, the healthier and stronger your teeth are. Also, this gives you the option of removing your veneers in the future.
If you want to improve your smile, porcelain veneers could be a great solution for you. We offer minimal or no-prep solutions as well to make the process even easier. If you want to freshen up your smile, give us a call to see if this could be the right solution for your smile.
At South Shore Dental Care, we're committed to providing our patients with a wide array of dental services, high-quality cosmetic dentistry, and up to the minute dental technology. Our Massapequa dental office serves patients from Long Island, Merrick, Bellmore, and Wantagh. Call us today to schedule your appointment.