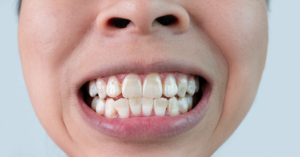 Everybody wants a brighter and whiter smile—but sometimes when we get what we ask for, it's not always what we expect! This is the case with white spots on teeth; if you're noticing off-white patches of discoloration on your pearly whites, you might be unsure about what's going on. In most cases, they're not considered a medical issue and they can also be addressed with the help of your dentist. Continue reading below to learn more about some of the causes of this odd dental issue, along with a few ways that your trusted dentist can help.
What Causes White Spots on Teeth?
White spots can appear on teeth for a variety of reasons, but five common causes include:
Dental fluorosis – People usually get this when they're young if they consumed too much fluoride as a child; it's often harmless and tends to develop before the teeth break through the gums.
Enamel Hypoplasia – This condition occurs when a person's enamel doesn't form properly. Like fluorosis, it generally occurs during childhood when the teeth are still developing.
Poor Dental Hygiene – Needless to say, neglecting to properly care for your teeth can cause them to become discolored, and white spots are a possibility.
Unhealthy Eating Habits – Certain foods that are too sugary or acidic can cause tooth discoloration. A diet that's low in calcium can also result in white spots on teeth.
Certain Medications – Antibiotics such as amoxicillin and others can also affect your enamel, leaving your teeth vulnerable to bacteria that result in discolorations.
How Can My Dentist Help?
White spots on your teeth can be frustrating, but you don't have to endure them needlessly and they can be treated quite easily! Your dentist can evaluate the symptoms and condition of your teeth and recommend a treatment plan, if necessary.
In many cases, teeth whitening is an effective solution; a high-quality bleaching solution is applied to the teeth that breaks up visible surface staining on the enamel. In other cases, topical fluoride can be utilized (to combat enamel hypoplasia), as can composite resin bonding and also enamel microabrasion. Even veneers are a potential option; your dentist can bond thin sheets of porcelain to the affected teeth, immediately hiding any discoloration.
About the Author
A Long Island native, Dr. Dory Stutman received his dental doctorate from the School of Graduate Dentistry at Case Western Reserve University and has proudly served patients and families in the Massapequa Park community for several years. His practice is pleased to offer a wide range of preventive, cosmetic, and restorative treatment options. If you have any questions about the blog or you'd like to arrange a visit for you or a loved one, feel free to contact the practice online or by phone for further information or assistance. Telephone: (516) 366-3345.