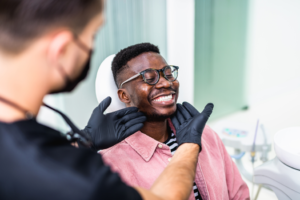 Dental care isn't always a simple matter. There are times when a big problem cannot be addressed until a smaller problem is resolved. One example of this is when patients desire to straighten their teeth through orthodontic treatment; although clear aligners and braces are quite effective, sometimes a procedure known as interproximal reduction must be carried out beforehand. Keep reading to learn a little more about what interproximal reduction is and how it's able to benefit one's smile in advance of orthodontic treatment.
What Is Interproximal Reduction?
The primary goal of interproximal reduction is to give your teeth enough room to properly house your clear aligners or orthodontic solution. It can also be done alone, or in conjunction with tooth extractions. This useful procedure, also referred to as slenderizing, selective reduction, or stripping, is recommended by orthodontists worldwide and has assisted countless patients in preparation for their orthodontic journey.
Essentially, your dentist will use a special tool to manually smooth your teeth and remove excess enamel in between adjacent teeth. Rest assured, this procedure is also relatively painless because the enamel doesn't contain any nerve endings; though it's normal to experience some sensitivity. After your teeth have been smoothed and polished, you'll see a positive visible difference in your facial characteristics—and your pearly whites will be ready for their upcoming orthodontic journey!
What Are the Benefits of Receiving Interproximal Reduction?
If you're still a little uncertain about how this treatment is benefitting your smile, just think of it as addition by subtraction—by subtracting enamel as needed, your dentist is adding the amount of space needed for orthodontic treatment to be successful. With that in mind, here are some of the unique benefits patients gain access to when they opt for interproximal reduction:
The procedure leaves most of the tooth's enamel intact, meaning its integrity isn't compromised nor is it more likely to experience hypersensitivity.
Studies have shown that patients who undergo interproximal reduction are less susceptible to tooth decay and gum disease.
It increases the chances of successful orthodontic treatment tenfold, whether the patient is receiving clear aligners or traditional metal braces.
At the conclusion of the treatment, your dentist will treat your teeth with fluoride gel to prevent enamel demineralization—fluoride has unparalleled dental health benefits!
You should know that before performing any type of dental procedure, such as interproximal reduction, your dentist will evaluate your oral health to make sure that there's nothing present that could potentially influence your results. That said, if you're in need of this treatment, know that it's going to lay the groundwork for an impressive orthodontic transformation!
About the Practice
The team at South Shore Dental Care has proudly served patients and families in the Massapequa Park, NY area for several years under the leadership of Dr. Dory Stutman and Dr. Khalida Stutman. Their practice is thrilled to offer a wide range of services, including options like Invisalign for those hoping to straighten their smiles and boost their quality of life. If you have any questions about the blog or you'd like to arrange an appointment for you or a loved one, feel free to contact the practice through their website or over the phone for additional information or assistance. Telephone: (516) 366-3345.