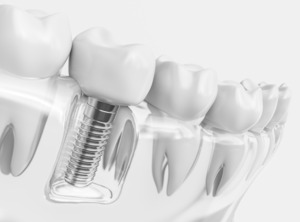 Dental implants are hyped up often as one of the most durable and powerful methods of replacing teeth. Their connection to the jaw provided them with stability and realism, which naturally makes them one of the most sought-after methods of tooth replacement.
However, not everyone is able to get them right off the bat—it's common for people to get dentures or bridges first and then think about investing in dental implants later. If you want to know more about whether that's possible, here's some information you may find useful.
Can You Replace Dentures with Implant Dentures?
Not only is replacing dentures with implant dentures possible, it's exceedingly common. In fact, most people who have had dentures for long enough usually investigate going this route with their restoration.
The only caveat is that people who have been missing teeth for a long time tend to find that their jawbone has shrunk from disuse. This can cause problems when it comes time to get dental implants, as you may not have enough support from your jaw to support them. You might need to talk to your dentist about whether a bone graft is necessary for you if you want dental implants.
Can You Replace Dental Bridges with an Implant?
Similarly, dental bridges can also be replaced with a dental implant if you're interested in a little bit more bite strength. However, if you remember, your dental bridge required your dentist to remove a fraction of your enamel to put the dental bridge in place. This enamel isn't going to grow back, which means that you need to continue to cover the treated teeth with a dental crown.
That said, this won't be very much of a change from the present situation—the only difference will be that you have a brand-new dental implant on your side.
About Our Practice
At South Shore Dental Care, we feel incredibly privileged to be able to offer something rare to our patients: a place where you can get orthodontics, cosmetic dentistry, and dental implants under one roof. We have a team of experts at our practice who are equipped to assist you with a wide variety of issues, which means that no matter how complex your dental needs are, you can find a helping hand with us.
If you have any questions about dental implants, we can be reached at our website or by phone at (516) 798-3808.