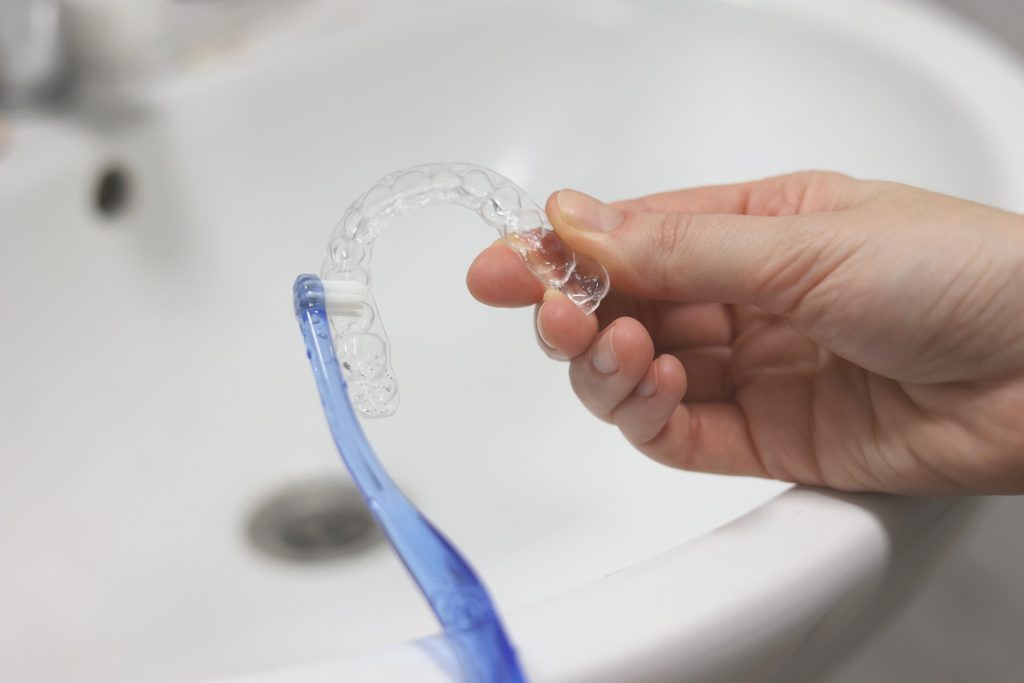 Invisalign has helped more than 12 million patients over the last two decades, and the clear aligners continue to be one of the most popular selling points. But what happens when your once-clear aligners begin to discolor? Fortunately, there are several proactive steps you can take to prevent additional staining and keep the next trays in your series clean and clear! With this in mind, keep reading to learn what to do if your clear aligners are turning yellow.
1. Only Drink Water with Your Aligners In
Do you drink coffee and other dark-colored beverages with your aligners in? Then that may be the reason your trays are taking on a yellow appearance. Even with a straw, the residue from drinks like these can cling to your aligners, causing them to stain. To prevent this from happening, the best thing to do is go back to the basics: only drink water with your aligners in.
2. Rinse Your Aligners Each Time You Take Them Out
While you're wearing your aligners, they are exposed to plaque, bacteria, and other debris in your mouth. That's why it's important to rinse your aligners each time you take them out! Just make sure to use lukewarm water (never hot) to prevent your trays from warping.
3. Brush Your Aligners Each Morning and Evening
On a daily basis, you need to give your trays a deeper clean. Fortunately, all you need is some lukewarm water and a soft-bristled toothbrush! After dampening the bristles, use your toothbrush to gently scrub each surface of your aligners. Then, rinse your aligners again thoroughly and place them back in your mouth.
4. Use the Cleaning Crystals as Needed
Many patients are under the impression that they need to soak their aligners in mouthwash or denture cleaner to remove stubborn stains. However, neither of these products were made for your trays, which is why you should use the cleaning crystals that came in your welcome kit instead. To use them properly, simply fill a clean container with lukewarm water and add a packet of cleaning crystals to the liquid. Then, gently shake the container to dissolve the crystals, place your aligners in the mixture, and allow them to soak. After about 15 minutes, rinse your trays with clean water again. At this point, your trays will be as good as new!
About the Practice
At South Shore Dental Care, patients in Massapequa Park can get the essential preventive, restorative, and cosmetic dentistry they need. If you're interested in straightening your teeth with Invisalign, then rest assured that we will go above and beyond to make the entire treatment process as smooth, comfortable, and positive as possible. If you'd like to schedule a consultation, or you have a question about life with clear aligners, then visit our website or call (516) 798-3808.