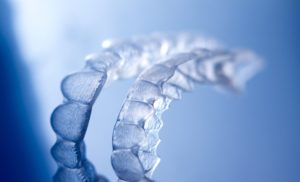 Invisalign is the preferred choice in orthodontics because it's discreet and comfortable. No brackets or wires are needed to fix bite and alignment problems. Instead, clear aligners are worn over the teeth to move them. Many people are candidates for Invisalign, but certain factors can't make you ineligible, like bruxism. If you have a habit of grinding or clenching your teeth, you may still benefit from Invisalign, but there are a few things you should know.
How Does Invisalign Work?
Traditional metal braces use brackets and wires to pull teeth into position. Invisalign is different because it involves a series of customized aligners that apply continual pressure in specific areas to move teeth gradually. You must wear the aligners for at least 22 hours per day, and switch to the next set in the series on time, about every 1 to 2 weeks.
You'll enjoy a nearly invisible solution to fix your teeth without the restrictions or hassle of metal braces. Each aligner will fit like a glove. You won't have to worry about watching what you eat because the aligners are removable. You'll spend less time in the dentist's chair because you won't need appointments for adjustments. In about 12 months, you can have a beautiful, straight smile.
Invisalign and Bruxism
Invisalign aligners are made from strong plastic, but it isn't any match for extreme pressure. Bruxism is a subconscious habit of grinding or clenching the teeth, especially when sleeping. With no treatment, it can damage your enamel and place you at risk of various oral health issues, like tooth loss.
Generally, a nightguard is used to create a protective barrier between the upper and lower teeth. You must wear your aligners for 22 hours per day, so taking them out at night is not an option. Patience with severe bruxism may not be candidates for clear aligners, but every case differs.
Many people with bruxism can benefit from Invisalign, but they can wear down aligners faster. Thankfully, your dentist can order replacements if they become damaged before it's time to change to the next set.
If you grind your teeth at night, don't let it stand in the way of enjoying the clear choice in orthodontics. Your dentist will examine your mouth and learn more about your oral habits to determine if Invisalign is right for you. They'll create the personalized plan you need to achieve your best smile.
About Dr. Khalida Stutman 
Dr. Stutman obtained her dental degree from the Case Western Reserve University School of Dentistry and has completed advanced education in many specialties, like orthodontics and cosmetic dentistry. Her commitment to excellence has led to memberships with many professional organizations, including the American Academy of Cosmetic Dentistry. If you're ready to invest in a straight smile, request an appointment through our website or call (516) 366-3345.