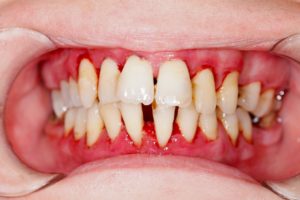 Did you know cavities aren't the only threat to your oral health? Gum disease is also a leading cause of tooth loss, despite being preventable. According to the Centers for Disease Control and Prevention, at least 50% of adults have the oral infection. Recently, researchers have found a genetic component behind gum disease. While you can't change your DNA, many risk factors are in your control. Here's how you can keep your gums healthy, even if periodontal disease runs in your family.
What is Gum Disease?
Gum disease is an infection caused by bacteria found in plaque and tartar buildup. Bacteria destroy the supporting structures of teeth, including the underlying bone, with no treatment. Your teeth can eventually loosen and fall out.
Unfortunately, tooth loss isn't the only concern. Bacteria from the infection can enter your bloodstream, increasing your risk of various health issues, like cardiovascular disease, Alzheimer's disease, pregnancy complications, and respiratory infections.
Is Genetics the Cause?
Researchers have found that genetics can play a role in your risk of gum disease, especially if it reaches advanced stages. Certain hereditary health conditions can affect the immune system, increasing your risk of infections and delayed healing. You can be more susceptible to oral bacteria and infections can be more difficult to treat.
Although genetics can place you at risk, many other factors are larger contributors, like poor oral hygiene, smoking, or infrequent dental care.
Symptoms of Gum Disease
Gingivitis is the first stage of gum disease, which is easy to treat if you don't ignore the warning signs. If the infection isn't addressed, it can reach advanced stages. Periodontitis causes irreversible damage and is more difficult to treat. It's best to contact your dentist at the first sign of poor gum health, like:
Red or swollen gums
Bleeding gums
Chronic bad breath
Receding gum line
Visible pus
Loose teeth
Lower Your Risk of Gum Disease
Even if gum disease runs in your family, you can keep your smile healthy by following a few tips:
Commit to Your Oral Hygiene: Brush your teeth after every meal and floss at least once daily. Use an antimicrobial mouthwash to kill any bacteria missed by your toothbrush or floss.
Live a Healthy Lifestyle: Limit how often you have sugary foods and drinks because it feeds oral bacteria. Don't smoke or drink alcohol to keep your immune system strong.
Visit Your Dentist Regularly: Visit your dentist every 6 months for a cleaning and checkup.
If you spot any signs of gum disease, don't wait for your next semi-annual appointment to contact your dentist. They'll stop the infection in its tracks to maintain a healthy mouth and body.
About Dr. Dory Stutman
Dr. Stutman earned his dental degree at Case Western Reserve University and completed postgraduate education in esthetic dentistry at the University of Buffalo. He regularly pursues continuing education in various specialties, like cosmetic dentistry, dental implants, and reconstructive dentistry. If you have signs of gum disease, request an appointment through our website or call (516) 366-3345.