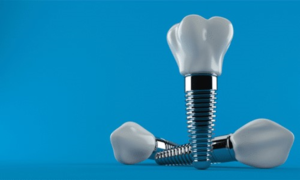 If you've heard of dental implants, you probably know that they're among the several unique options for replacing missing teeth—but did you know that they're considered the gold standard when it comes to rebuilding a smile with extensive tooth loss? In fact, they can even notably outperform other tried-and-true restorative options like dentures and bridges! Keep reading to learn more about this incredible, innovative solution and what makes it the top choice for lost pearly whites.
A Closer Look at Dental Implants
To understand why dental implants are virtually unmatched, you must first understand how they function inside the mouth. Getting dental implants is a multi-step procedure that begins with implant posts being surgically placed directly into the patient's jawbone. These posts are made of biocompatible materials, such as titanium, and they're able to healthily fuse with bone matter over the course of a few months. They're intended to mimic the roots of teeth, which other solutions aren't designed to do.
Once the implant sites have healed, the posts are capped with custom restorations that fully resemble your original teeth in terms of look and feel—and better yet, they don't inhibit oral functionality at all! Under optimal circumstances, these restorations can last uninhibited for several decades with little maintenance or specialized care needed. In certain circumstances, patients might need a dental bone graft or periodontal therapy before receiving implants.
Why Are Dental Implants the Best Choice for Replacing Missing Teeth?
The process for getting dental implants might seem long and at times, a little intimidating—however, there are very few doubts that they're considered the pinnacle of tooth restoration. Here are just a few of the many unique benefits that they have to offer:
Dental implants look, feel, and function exactly like your natural teeth—no one will even know you have implants unless you tell them yourself!
Dental implants are built to last and can remain intact for several decades or even potentially for a lifetime.
By fusing with the jawbone, dental implants can effectively prevent the deterioration of bone matter that results from tooth loss.
Dental implants don't affect your other natural teeth, while solutions like bridges and crowns usually require their support.
You'll be able to eat virtually anything once your implants have healed, with most of your original bite force returning.
You don't have to worry about special cleaning solutions or removing them at nighttime, as with dentures.
Due to their structural soundness, protective nature, and unmatched beauty, among other benefits, dental implants are perhaps the most desirable of all tooth restoration solutions. And as dental technology continues to progress, it's only reasonable to assume that dental implants will continue to evolve as well and remain the top choice for rebuilding smiles.
About the Practice
The South Shore Dental Care team proudly serves patients and families in the Massapequa Park, NY area. Under the leadership of the skilled husband-wife duo of Dr. Dory Stutman and Dr. Khalida Stutman, they're thrilled to offer a wide array of services including restorative treatments like dental implants. If you have any questions about the blog or you'd like to arrange a consultation to see if you're an eligible candidate for dental implants, feel free to contact the practice online or by phone for further assistance. Telephone: (516) 798-3808.