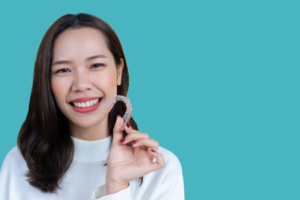 Invisalign is one of the hottest treatment options around—these days, more patients than ever before are taking advantage of these unique clear aligners for various orthodontic needs. However, if you fall into this camp, you might've noticed recently that your aligners don't seem to be fitting as intended—and whether they're too tight, too loose, or ill-fitting in some other way, this can ultimately affect your treatment's progress! Here's more from your dentist about what can possibly cause your aligners to stop fitting correctly, along with what you can do to address the issue and keep your Invisalign journey from experiencing any setbacks.
What Causes Invisalign Aligners to Stop Fitting Properly?
Since Invisalign relies on gradual pressure over time to move teeth, the aligners must fit exactly as intended to ensure comfortable movement and optimal results. Although the aligners might not feel like they fit perfectly at first, you'll become used to wearing them after a while. However, there are a few things that might inhibit your trays from sitting on your teeth correctly, including:
You've recently swapped to a new set of aligners, which is a standard part of the process and represents forward progress.
You've stopped wearing your aligners as often as intended (20 – 22 hours per day), which means your teeth aren't moving to match up with your aligners as you advance to new sets of trays.
Your aligners (or teeth) have sustained physical damage, causing them to fit improperly. Disfigured aligners can also occur if you fail to properly clean/care for them.
How Can I Address Ill-Fitting Aligners?
Ensuring that your aligners fit properly at all times throughout your orthodontic journey is the absolute best way to guarantee results that you'll love showing off. That said, there are a few ways you can help your aligners to fit as intended.
When you're putting in your aligners, push them down over the front teeth first and then apply even pressure to the molars until the aligners "snap" into place. Then use your thumbs to press along the entire surface of the aligners, fully sealing them over your teeth. Haphazardly inserting your aligners might cause damage to them or your other oral structures!
If your aligner isn't fitting over just one tooth, it often means there's a gap between the tooth and aligner, which is often where Invisalign chewies are handy. These are small, chewable cylinders that help the aligners sit correctly and eliminate air bubbles. They're also incredibly useful for when patients have just advanced to a new set of trays, and it's smart to use them first thing in the morning and before you go to bed at night.
Sometimes, no matter what you do, your aligners may still not fit properly—and this is a sign that you should visit your provider for assistance. Your plan might need a few minor tweaks or moderate revision, and your dentist is undeniably the best person to help with this!
About the Author
A Long Island native, Dr. Dory Stutman received his dental doctorate from Case Western Reserve University and is a proud member of several professional organizations including the American Dental Association. He's also an accredited member of the renowned American Academy of Cosmetic Dentistry. His practice in Massapequa Park is thrilled to offer a wide range of services including orthodontic options like Invisalign. If you have any questions about the blog or you'd like to schedule a visit for you or a loved one, you can contact Dr. Stutman through his practice's website or by phone for further assistance: (516) 798-3808.