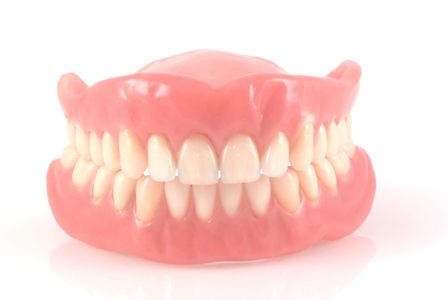 Dentures are removable dental appliances that are used to replace missing teeth and surrounding tissue to restore the appearance and functionality of the mouth. They are a common option for tooth replacement with full dentures lasting around 5-10 years and partials lasting 5-15 years. But, despite their durability, there are habits that can cause issues you're your restorations and may even endanger your oral health. Keep reading to learn about five bad habits to avoid if you have dentures.
#1: Neglecting Your Oral Hygiene
Even if you've replaced your missing teeth with dentures, it's crucial to maintain good oral hygiene by brushing, flossing, and using an antibacterial mouthwash, as neglecting these practices can lead to plaque and tartar buildup, making them unclean and uncomfortable to wear.
Brushing your dentures at least twice a day is recommended by the majority of dentists, particularly after eating. However, it's important to keep in mind that certain types of toothpaste can be abrasive and may harm your denture restorations. To avoid any damage to the acrylic of your dentures, make sure to use appropriate products that won't cause scratches.
#2: Not Wearing Them Regularly
Consistently wearing your dentures is crucial to prevent them from drying out or becoming distorted, ultimately compromising their functionality. In the case of new dentures, wearing them frequently can help your mouth adapt to them more rapidly.
While it's important to wear dentures regularly, it's recommended to remove them before going to bed. This allows your mouth to rest and also gives you time to soak your dentures in a clean glass of water or denture solution overnight to eliminate bacteria.
#3: Not Cleaning Them Often or Properly
To maintain good oral health, it's essential to clean your dentures daily with a soft-bristled toothbrush and non-abrasive toothpaste. Hot water should be avoided during the cleaning process, as it may warp your restorations. It's important to brush your dentures gently, paying special attention to the surfaces that come into contact with your gums. Proper cleaning will help keep your dentures in good condition and extend their lifespan.
#4: Trying to Repair Them Yourself
Even though fixing minor breaks or making small adjustments to your dentures yourself might seem like a practical solution, it's always advisable to consult your dentist if you encounter any issues. Dentures are intricate restorations, and even a small error can lead to significant problems. Your dentist has the necessary expertise and equipment to rectify any issues swiftly, accurately, and safely.
#5: Skipping Dental Checkups
Regular preventive care is crucial for individuals with dentures, and this includes scheduling routine check-ups with your dentist. Even if you don't have any natural teeth left, your dentist can monitor your oral health and examine the condition of your dentures. By detecting any potential problems early on, they can be addressed promptly and effectively before they escalate. This helps ensure that any issues are managed before they become more severe.
About the Practice
South Shore Dental Care is experienced in providing dental services to individuals residing in Massapequa Park, offering a comprehensive range of treatments to help maintain your smile's health and appearance. If you're missing multiple or all of your teeth, they can discuss dentures as an option to restore your smile. Their team can also provide guidance on proper denture care and suggest bad practices to avoid. To schedule an appointment or to learn more about dentures, contact South Shore Dental Care's office at (516) 798-3808 or visit their website.