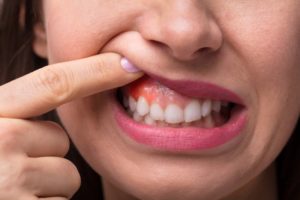 While caring for your pearly whites is a very important part of your oral health, they shouldn't be your only focus. Your gums, the anchor place of your teeth, also play a very significant role in how healthy your mouth is. As a matter of fact, they can even affect your overall well-being! If you have noticed that your gums are swollen, inflamed, or red, it's best to visit your dentist for treatment as soon as possible. Read on to learn about the causes of swollen gums and what you can do to keep them in their best condition!
What Causes Swollen Gums?
If your gums are swollen, it's important to be aware that it could be a sign of an issue that needs to be addressed. There can be various reasons why the soft tissues of your mouth are not in their normal state, including:
Gum Disease
According to the CDC, almost 50% of Americans 30 and older have some form of periodontal (gum) disease. This is when there is an infection in your gums, resulting in them becoming swollen and irritated. A poor oral health routine is a very common cause of gum disease.
Malnutrition
If you are not receiving adequate nutrition, it will affect how your gums feel. Being deficient in certain vitamins (such as B and C) can cause your gums to swell.
Oral Infection
Oral medical conditions, like herpes or thrush, can lead to swollen gums.
Hormonal Changes
Certain changes in women's hormones can cause changes in their gums. These changes can occur before their menstrual cycle or during pregnancy. Women experience a rush of hormones produced by the body during these fluctuations in the body, resulting in an increase in the blood flow to the gums, leading to swelling.
How Can You Do to Help Your Swollen Gums?
Has it been more than two weeks since you first noticed your gums were inflamed? If so, you should go visit your dentist. By conducting a thorough oral examination, they can determine the cause of the inflammation and what treatment options would be best for you. If you have some stage of gum disease, they will begin periodontal therapy for you.
In the meantime, you can also do things to soothe your gums, such as:
Brush and floss gently to avoid irritating the gums further.
Use a saltwater rinse to kill bacteria and reduce inflammation.
Avoid oral irritants (i.e., mouthwash, alcohol, and tobacco).
Use a warm compress to reduce pain, or a cold compress to reduce swelling.
Swollen gums are normally a sign there is an issue that needs to be treated. Be sure to pay attention to the length of time they are not feeling right and remember, your dentist is there to assist you to return to great oral health!
About the Practice
The Luminous Smile is eager to help you with any oral health issue through the expertise of its two dentists. They provide a full range of comprehensive dental services, including preventive care and periodontal therapy. With the use of advanced dental technology and personalized plans, they can help you achieve your healthiest, most beautiful smile! To schedule an appointment, contact them through their website or call (516) 798-3808.