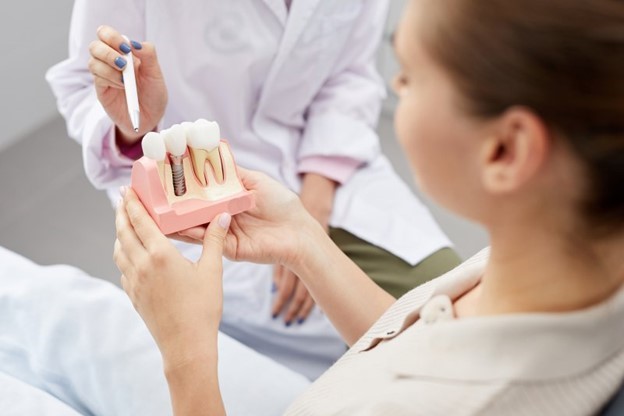 Whether you lost teeth due to an accident, oral health issues, or other factors, it's important to have them replaced. Though having gaps in your smile can make you feel self-conscious, it can also lead to oral health issues if you wait too long. That's where dental implants come in. These titanium screws are the only option that replaces the roots of the teeth and can last a lifetime with proper care. If you're considering getting dental implants, you may be wondering if they're safe for you. Keep reading to learn more about this treatment and whether it's a safe option for your smile.
Are Dental Implants Safe?
The dental implant procedure has a 95% success rate. This means that it's rare for patients to run into complications. With a skilled dental team and modern technology, this procedure is incredibly safe and an excellent way to replace missing teeth.
With that in mind, issues can still arise. It's important to take good care of your smile both before and after the procedure. If you don't practice good oral health, this may cause cavities to form. If those cavities get bad enough, it can lead to a serious tooth infection and potential tooth loss.
The same goes for gum disease. Caught early on, gum disease is easy enough to treat. But if it gets to a more severe stage, this may lead to gum recession, tooth loss, and other issues that may jeopardize your implants.
Though rare, oral surgery also comes with a small risk of allergic reactions, bleeding disorders, or infections. Your dentist and their team will work to prevent this so the procedure goes as smoothly as possible.
5 Things That May Compromise Your Dental Implants
There are several things that may compromise your new pearly whites and could potentially lead to implant failure. It's important to do what you can to avoid these to save time and money as well as to make the procedure as safe as possible. Some potential complications include:
Bone loss – This occurs when the jawbone is no longer receiving the stimulation needed to keep it healthy and often occurs after teeth are pulled or lost. This may prevent successful osseointegration. Your dentist will likely take X-rays to see if a bone graft will be necessary before proceeding with implant placement.
Bad oral habits – Drinking excessively, consuming too many sweet, acidic, and carb-heavy foods and drinks, smoking cigarettes, and using your teeth as tools can greatly increase your risk of implant failure.
Autoimmune diseases – Conditions like diabetes and rheumatoid arthritis slow the healing process. They also prevent your implants from properly fusing with the jawbone.
Certain medications – Some medications suppress the body's immune system, and others can affect bone health. Both of these things can make it harder for osseointegration to be completed properly.
Poor oral hygiene – Not brushing twice and flossing once daily can lead to cavities or gum disease, both of which may jeopardize your implants.
About the Practice
If you're missing teeth in the Massapequa Park area, Drs. Dory Stutman and Dr.Khalida Stutman are here to help. They lead the team at South Shore Dental Care, a group of oral health professionals who aim to give you a healthy, happy smile. They offer dental implants to replace missing teeth and can help you ensure that the procedure and recovery are as safe as possible. To make an appointment with South Shore Dental Care or for more information, call (516) 798-3808 or visit their website.