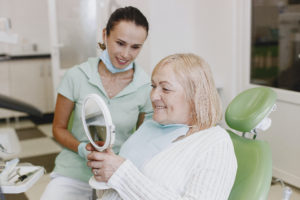 Tooth loss is more than an aesthetic problem. Each tooth you lose can have devastating consequences for your oral and general health. Your self-esteem and quality of life can suffer, but dentures can turn back the clock to restore a complete, functional smile. They look and feel more realistic than ever, but they won't last forever. Over time, your denture will lose its snug fit. Unfortunately, a slipping denture is more than an annoyance. It can create potentially life-threatening concerns. Here's why you shouldn't ignore a poorly fitting denture. 
Risks of Poor-Fitting Dentures
Traditional dentures rest on top of your gums and are held in place using suction. Your dentures need to be adjusted regularly because your jaw and gums will change shape over time. If they aren't adjusted, they can slip and cause irritation.
Poor-fitting dentures can make it almost impossible to eat certain foods because of pain, sores, and inflammation. Removing certain foods from your diet can quickly lead to nutritional deficiencies that can harm your overall health.
Unfortunately, the risks don't end there. Researchers have found an increased risk of oral cancer among patients with ill-fitting dentures. Although dentures themselves don't cause cancer, chronic inflammation can cause cells to grow quicker than your body can repair them. As a result, the longer the inflammation lasts, the more likely the cells will become cancerous.
Without any adjustments, sores and ulcers can form, which can become infected. The infection can enter your bloodstream, increasing your risk of various health issues, like bone loss, sepsis, and respiratory distress.
Restore a Snug Fit
With the right care, including regular adjustments, most traditional dentures last for 5 to 7 years before needing to be replaced. A properly fitting denture won't slip or fall out of your mouth, but there are times an adhesive can be helpful for additional support. However, you don't want to rely on it long term if your dentures aren't fitting well.
As an alternative to traditional dentures, you can stop slipping and irritation for good by adding the support of dental implants to your smile. Titanium posts are surgically placed into the jawbone to serve as tooth roots. Your denture will be anchored to your jawbone, so you'll never need to worry about sores or inflammation again. Dental implants are also proven to last for decades with the right maintenance, so you won't need to deal with adjustments or replacements.
If your denture isn't fitting like it used to, don't ignore the problem. Your dentist will review all your options to invest in a healthy mouth and body using the best method to complete your smile.
About Dr. Khalida Stutman
Dr. Stutman earned her dental degree from the Case Western Reserve University School of Graduate Dentistry and has completed continuing education in advanced services, like general dentistry, dental implants, and orthodontics. If you need a new denture, request an appointment through our website or give us a call at (516) 366-3345.