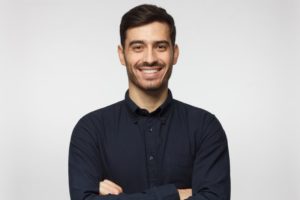 Maybe you've always thought your tooth loss would prevent you from having a smile you can be proud of. Perhaps you've gone so long with missing teeth that you wonder whether you'd make a good candidate for dental implants. While dental implants may be the right choice for many patients, there's an easier alternative that offers all the same benefits—mini dental implants. These implants are particularly helpful for the following groups of people.
Long-Time Denture Wearers
From the moment a tooth is lost, the jawbone starts to atrophy. Over time, it loses density and changes shape—that's why people with dentures need to have them adjusted every year. If you've worn dentures for several years, then your jawbone is likely lacking in density. For traditional implants in this situation, a bone graft may be necessary before your dentist can place the implant posts, prolonging the treatment process. However, with mini implants, even someone who has had normal dentures for years can take advantage of the benefits of them right away.
Those Who Don't Want a Lengthy Treatment Plan
Dental implants, while having a long lifespan, have the potential to take up to a year to complete, especially if a bone graft becomes necessary. On the other hand, the process can be significantly shorter with mini dental implants. For patients who want a more expedited plan, mini dental implants could be the better way to go!
Healthy Individuals
Regardless of which kind of implants you would like to get, you need to meet a few criteria. First, you must be in good overall health, specifically meaning that you cannot have uncontrolled diabetes or untreated osteoporosis and are not on immunosuppressant medications. In addition, you must also not have any oral infections like gum disease because these can prevent the implants from successfully integrating with the jawbone. As a healthy patient, you may have multiple implant options available to you, and mini implants can help you keep up a nutritious diet sooner than normal implants.
Those for Whom Traditional Implants Aren't Right
Another requirement for normal implants is that your jawbone must be sufficiently strong and dense prior to implant placement. However, this isn't an issue for mini implants because they are smaller and can work even with low bone density. As a result, more patients qualify for mini implants and are able to enjoy a fully restored smile.
If you fit into one of these groups, implants may still be a viable option. Mini dental implants can allow you to partake of the many benefits of treatment more quickly and with fewer requirements. Don't give up on a full, strong smile!
About the Practice
At The Luminous Smile at South Shore Dental Care, Dr. Dory Stutman and Dr. Khalida Stutman each devote at least 100 hours to continuing education coursework each year, namely in cosmetic services and dental implants. They are proud to offer mini dental implants to patients who have suffered tooth loss. If you are interested in learning more about mini dental implants, you can contact our Massapequa Park office online or call us at 516-798-3808.