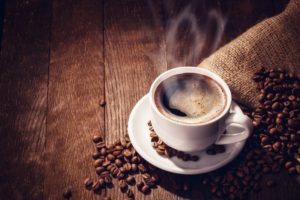 Are you planning on perfecting your smile with veneers in Massapequa Park soon? If so, congratulations! This phenomenal cosmetic service is an excellent way to virtually erase any type of flaw from your pearly whites. However, if you're an avid coffee-lover, you may be wondering if you have to give up your favorite beverage once you get the smile of your dreams. After all, staining your veneers is the last thing you want to do! Read on to learn more about how coffee interacts with veneers.
Can Coffee Stain Veneers?
Coffee is notorious for causing tooth discoloration. On the other hand, veneers are crafted from high-quality dental porcelain. So how does this incredibly staining drink stack up against stain-resistant veneers? Dental porcelain is not porous like natural tooth enamel, which means there are no little spaces for dark-colored particles to seep in and cause discoloration.
However, since they are stain-resistant and not stain-proof, overindulging in coffee could cause your veneers to darken over time. Plus, the coffee you drink could slip around the sides of your veneers and stain the bonding material that helps hold them in place. This type of discoloration can shine through your veneers, making them look somewhat gray or brown.
How People with Veneers Can Enjoy Coffee
Fortunately, just because veneers aren't 100% resistant to staining from coffee, that doesn't mean you have to give up your morning cup o' Joe or afternoon pick-me-up. Your veneers are only likely to discolor from coffee consumption if you drink a lot of it very frequently and don't practice good oral hygiene. Aside from that, here are a few other things to keep in mind when protecting your veneers:
Drink lots of water with your coffee and after you finish it. This will help wash away lingering dark-colored particles.
Kick the habit and quit tobacco use. Nothing stains teeth, restorations, or veneers more aggressively than tobacco. Now that you've invested in your smile, make the most of it by kicking this bad habit.
Keep practicing great oral hygiene every day. This includes brushing for two minutes twice a day, flossing daily, and rinsing with mouthwash regularly.
Consider drinking your coffee through a straw to minimize contact with the veneers
Don't sip on your coffee all day long- finish it in a reasonable timeframe!
Overall, keeping your veneers safe from coffee stains isn't that different from keeping your natural pearly whites bright. When you keep the above tips in mind, you should be able to enjoy your cup of coffee and feel confident about showing off your veneers afterwards!
About the Practice
The Luminous Smile At South Shore Dental Care is proud to be Massapequa Park's choice for exceptional oral health care and treatments. Our team of highly experienced dentists offers a wide range of services for the whole family under one roof, including cosmetics, dental implants, and even sedation dentistry. If you're interested in veneers, our very own Dr. Dory Stutman is an accredited member of the American Academy of Cosmetic Dentistry, which only a small percentage of dentists achieve! Schedule your consultation today online or by calling (516) 366-3345.