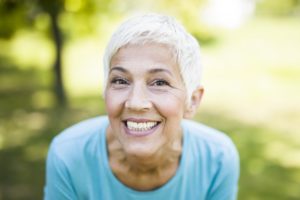 Have you recently had your teeth replaced with dental implants in Massapequa? Congratulations – you're very likely to enjoy your new teeth for decades or even a lifetime to come! Dental implants already have a high success rate, but there's one way to boost their longevity that you may not have considered: vitamin D. Keep reading to learn how vitamin D could make your dental implants more successful and some tips for getting more of this valuable nutrient.
How Vitamin D Boosts the Success Rate of Dental Implants
Vitamin D benefits your health in two major ways. First, it aids in your body's absorption of calcium and phosphorous, both of which help build strong bones and teeth. It also helps regulate the immune system, keeping it strong enough to combat infections. These two effects combine to improve dental implants' success rate.
Improved Jawbone Integration
For a dental implant to last, it has to merge with your jawbone. This process, called osseointegration, depends on your body's ability to grow new bone in the area of your jaw where the implant was placed. Because vitamin D helps your body absorb phosphorous and calcium, your jawbone will have an easier time bonding with the implant. As a result, the odds of long-term dental implant success increase.
Healthier Gums
Dental implants rely on healthy gum tissue for support. Gum disease is the most common reason why dental implants fail, as it may cause bacteria to destroy the bone keeping the implants in place. Not only does vitamin D improve your immune system response, but it also has anti-inflammatory and antimicrobial properties. In other words, vitamin D greatly reduces your risk of infections that could compromise your new teeth.
Tips for Getting More Vitamin D
Fortunately, getting plenty of vitamin D doesn't have to be difficult. Here are a few easy ways to incorporate the nutrient into your life:
Spending time in the sun – Soaking up the sun's rays helps your body produce vitamin D. For most people, getting about 20 to 30 minutes of sunlight per day should be more than enough.
Eating foods rich in nutrients – Many foods naturally contain vitamin D. These include egg yolks, mushrooms, salmon, and canned tuna.
Taking a daily vitamin D supplement – Your primary care physician can recommend the proper dosage of over-the-counter supplements you can take. These come in pills, capsules, gels, and more.
By providing your body with enough vitamin D, you can increase the odds that your dental implants will stand the test of time. For more tips on making your dental implants last, be sure to ask your dentist in Massapequa!
About the Authors
Husband-and-wife dentists Dr. Dory Stutman and Dr. Khalida Stutman have been providing top-quality, comprehensive dentistry to the Massapequa Park, NY community for more than 25 years. At South Shore Dental Care, they offer a number of services in-house, including dental implant placement. Of course, they'd love to provide you with the knowledge you need to ensure your new teeth last. To learn more about dental implants, you can contact their team by calling 516-798-3808.