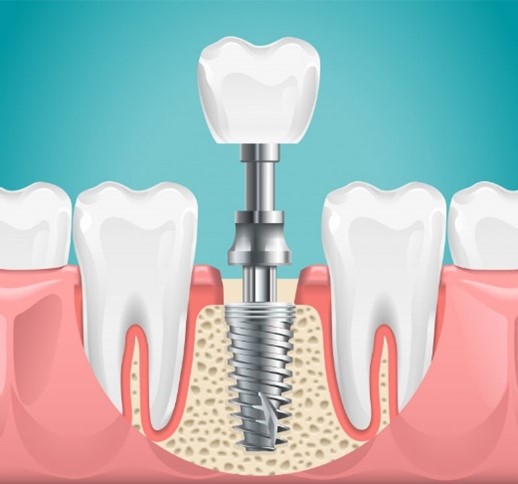 Dental implants are pretty handy when it comes to fixing a compromised smile—these tiny titanium posts have become widely sought after in the world of dentistry for their impressive results. However, in certain cases your dental implants can fail and jeopardize your oral health! If you have an implant that seems a little loose and you're beginning to feel concerned, you might not be sure what your options are. Keep reading to learn about why implants fail and what you can expect when it happens.
Why Do Dental Implants Fail?
There are many different reasons for an implant failing, but most failures can be categorized into two types based on timing. Early failures occur within the first few months of the implant being placed. In many early failures, the implant is still very loose due to factors including movement during the healing process, lack of stability, infection, and the overall healing ability of the patient. Early failures are usually simple to correct—the implant is often loose enough to easily remove and replace.
Late failures are those that occur after one year, and they're a little more complicated. Sometimes an implant is stable at first, but gradually loses stability due to infection, outside force, or excess pressure. Other times they can remain sturdy and firm, but X-rays can show signs of "perio-implantitis," a disease that destroys the bone around the base of the implant. This can cause pain, abscesses, and foul breath—the implant will need to be carefully removed immediately.
How Are Failed Dental Implants Removed?
If your dentist determines that your implant needs removal, they'll likely take one of two different approaches. One method involves safely cutting a small portion of your bone along the edge of the implant. Your dentist will take a very conservative approach and try to preserve as much healthy bone as possible. This method helps to release a lot of the built-up tension and makes the implant much easier to remove.
The other main approach used involves a special set of tools that are attached to the implant; a high amount of reverse torque is utilized to remove the implant in a mere matter of minutes. This method is safe, comfortable, and effectively removes the implant with any extra complications (like removing too much bone).
Your dental implants are an important part of your smile, so when one fails it's important that you visit your dentist to have it replaced. Removing and replacing a failed implant is fairly straightforward and ensuring that it's done properly and promptly will go a long way towards preserving your beautiful smile.
About the Practice
South Shore Dental Care has proudly served the dental needs of Massapequa Park since 1995! They are led by Dr. Dory Stutman and Dr. Khalida Stutman, who both have several decades of experience in a wide variety of fields. If you'd like to schedule an appointment for dental implants or have any questions about the article, feel free to contact the practice through their website or by phone: (516) 798-3808.