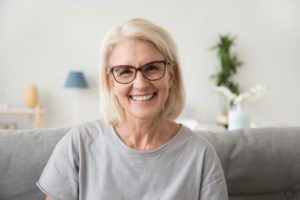 Missing most or all of your teeth? You could get removable dentures, but these days there's a better way to restore your smile. All-on-4 dental implants can replace an entire row of teeth with just four to six implants. They are arguably the most efficient, cost-effective way to overcome extensive tooth loss. However, this type of restoration does require a surgical procedure. Here's a guide on what you can expect during All-on-4 recovery in Massapequa Park.
How Long Is All-on-4 Recovery?
Dental implants restore nearly full chewing power by fusing directly with the surrounding jawbone. This process, known as osseointegration, can take several months or more for traditional dental implants. However, with All-on-4 the osseointegration process is much faster, though the exact amount of time required can vary from person to person. During an initial consultation, your dentist will be able to provide an accurate timeline based on your unique situation.
Will I Need to Take Time Off from Work?
Most patients only need to take off a day or two from work to focus on their recovery from oral surgery. If your job involves physical exertion like heavy lifting, you may consider scheduling implant surgery around a weekend. Exercise or strenuous physical activity increases blood pressure and can cause bleeding at the implant sites. Getting implant surgery before a weekend will give you a few extra days of rest.
Will I Be Able to Eat My Favorite Foods?
You will need to temporarily adjust your diet after getting All-on-4 implants in Massapequa Park to avoid discomfort and smooth the road to recovery. Stick to consuming liquids like smoothies and soft foods that do not require a lot of chewing. Mashed potatoes, scrambled eggs, yogurt, and oatmeal are all excellent options. Avoid eating crunchy, crispy, or spicy foods as well as snacks that produce small crumbs. In addition, do not use a straw to drink, as the suction could disrupt the healing process.   
Will I Need to Attend All-on-4 Follow-Up Visits?
Finally, be sure to attend regular follow-up visits with your dentist in the weeks and months after All-on-4 surgery. These checkups allow your dentist to monitor how your recovery process is going and catch any issues that might arise. They are also a good opportunity for you to ask questions and learn more about how to care for your new smile.
Compared to traditional dentures, All-on-4 implants are a more reliable and long-lasting way to replace missing teeth. Now that you know what to expect from the recovery process, don't hesitate to contact your dentist if you think you could benefit from All-on-4.
About the Author
Dr. Dory Stutman has over 30 years of experience helping patients rebuild their smiles with dental implants. A proud University of Buffalo graduate, he has also completed multiple mini-residencies and training seminars on implant treatment. For more information on All-on-4 recovery in Massapequa Park, visit the South Shore Dental Care website or call 516-798-3808.