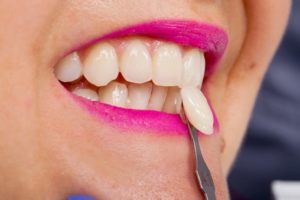 Modern veneers are thinner than ever, allowing them to feel completely natural in your mouth. You may even forget they aren't part of your real teeth, that is until a veneer falls off. Don't panic! Your cosmetic dentist can restore your stunning smile. While you wait for your appointment, here's what you should do if a veneer fell off in Massapequa Park.
4 Steps for Handling a Lost Veneer
Veneers have undergone various improvements over the years to promote their aesthetics and durability. The process of applying them has also changed to ensure they last for many years; however, a veneer can lose its bond with your tooth over time. Various factors can cause a veneer to fall off, like heavy alcohol consumption, trauma to the mouth, or oral health issues. No matter the reason, here's what you'll want to do until you're able to see your cosmetic dentist in Massapequa Park.
1. Collect the Pieces
Whether the veneer broke into many pieces or simply detached from the tooth, place the pieces in a hard, clean container. If the veneer is mostly in one piece, your dentist may be able to reattach it if it's kept clean.
2. Contact Your Cosmetic Dentist
Applying veneers required a small amount of enamel to be removed, which means your teeth are vulnerable without the restorations. As a result, you'll want to contact your cosmetic dentist as soon as possible. They'll get you into the office quickly while explaining how to protect your tooth until your appointment.
3. Be Careful Until Your Appointment
Although having a veneer fall off can be alarming, it isn't a dental emergency. Your tooth won't be in any immediate danger, but you'll need to be careful to protect it in the meantime. You may experience sensitivity to hot or cold foods and drinks, so you may want to avoid them until after your tooth has been repaired.
4. Use a Temporary Solution
Your dentist may instruct you to use a temporary solution until your appointment, like a dental wax. It can be applied to the front of your tooth to cover any roughness. It can also decrease sensitivity by creating a barrier over the surface of your tooth.
Restoring Your Smile Today
Your dentist will examine your tooth and the veneer to create a personalized treatment plan. If the veneer is still in good condition and fits your tooth well, they can reattach it. Some chips, cracks, or splintered porcelain veneers can be repaired using a composite resin. Although it provides a quick fix, your veneer will need to be replaced eventually.
Losing a veneer is stressful, but you can take the necessary steps to make a difficult situation easier. Don't wait to contact your cosmetic dentist.
About Dr. Dory Stutman
Dr. Stutman earned his dental degree from Case Western Reserve University before continuing his training in esthetic dentistry at the University of Buffalo. He specializes in advanced cosmetic and restorative procedures to create amazing smiles. If you have lost a veneer, contact our office today for an appointment.