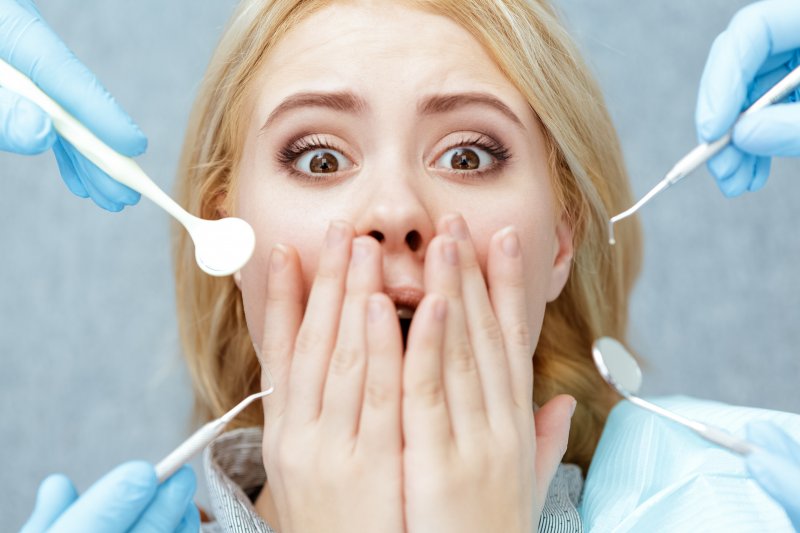 Though it's generally recommended that patients visit the dentist every six months for exams and to have their teeth cleaned, those experiencing dental fear in Massapequa Park may struggle with this. Regular dental appointments are an important part of keeping your mouth healthy, so what can you do to overcome your fears? Read on to learn why the dentist is one place you don't need to be scared of this Halloween season.
Why People Don't Go to the Dentist
Though dental fear can be brought on by several different factors, some of the most common ones are:
Inadequate funds to pay for treatment or lack of dental insurance
Fear that they'll be judged for having poor oral health
Fear of tools or noises at the dentist's office
Forgetting to schedule appointments
Trypanophobia, or a fear of needles
Best past experiences with dentists
No symptoms of oral health issues
How Sedation Dentistry Can Help
Dental fear or anxiety can make it difficult to receive the care you need, but sedation dentistry can help. If you have mild to moderate dental fear or special needs, oral conscious sedation may be right for you. Oral conscious sedation is administered through a prescription medication that your dentist will have you take before your appointment. It relaxes you both mentally and physically and is much safer than other options.
IV conscious sedation is generally the best option for patients with extreme dental fear. A small needle is inserted into the arm or hand, and a strong, fast-acting sedative is administered through an IV line. A warm, drowsy calm will soon come over you, and your dentist will adjust the sedative levels as needed to ensure that you continue to feel comfortable throughout your procedure.
Why the Dentist Is Nothing to Fear
Along with dental sedation, some other reasons why the dentist's office is nothing to be afraid of include:
They're here to help – Dentists are trained professionals who are here to help. They will do whatever they can to ease your nerves and make sure you feel safe and comfortable throughout your appointments.
Avoid further issues – The sooner you receive the care you need, the better your chances are of treating oral health issues and not needing a ton of work done in the future.
Stress-free care – Even if all your past experiences at the dentist's office were bad ones, the right dentist will make things go as smoothly as possible.
No matter how extreme your dental fear is, your dentist will do what they can to help you maintain good oral health. Speak with them about your options, and you'll soon be sporting a smile you can't wait to show off!
About the Practice
If you're struggling with dental fear in Massapequa Park, Dr. Dory Stutman, Dr. Khalida Stutman, and the rest of their team at South Shore Dental Care can help. They offer both oral conscious and IV sedation so even the most fearful patients can get the care they need in a safe, comfortable, and stress-free environment. Call South Shore Dental Care at (516) 798-3808 or visit their website to learn more about how sedation dentistry can help you overcome your fear of the dentist or to schedule an appointment.