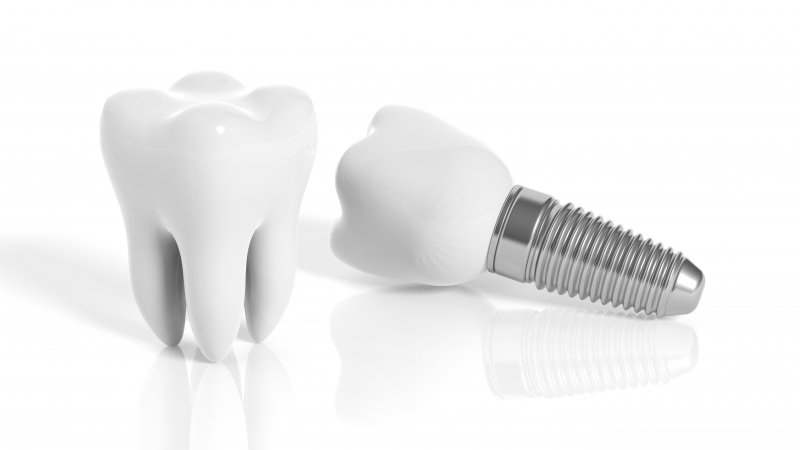 Dental implants in Massapequa Park require proper maintenance over the years. Your investment in this superior tooth replacement solution shouldn't be a short-term reality, but it can be if you don't take the proper precautions. Bad habits, unhealthy foods, and poor oral hygiene can all lead to your new and improved smile quickly diminishing and even failing. If you want to avoid the potential for stains and damage, discover what you can do to better protect these artificial teeth to ensure a longer lifespan.
Do Dental Implants Stain in Massapequa Park Like Regular Tooth Enamel?
While dental implants are not porous like regular tooth enamel, they can become stained and damaged just like other similar restorations (i.e., dental crown, bridges, veneers, etc.). Although the materials used to create your dental implant restoration are high-quality and made to resist stains, this isn't always the case, especially if you are prone to consuming dark-colored beverages, smoking, or even neglecting your oral hygiene routine.
Some common culprits that can diminish the natural appearance of your dental implants include:
A diet that includes acidic foods and beverages
Abrasive toothpaste
Eating ice
Chewing on pens, pencils, or other inanimate objects
Using your teeth to open packages or containers
Biting your fingernails
The only way to fix stains that develop on your permanent prosthetics is to have them replaced or repolished, which can be timely and costly.
Ways to Avoid Stains to Ensure the Lifespan of Your Dental Implants
While it is true your dental implants cannot decay or develop cavities, you still need to be mindful of how well you are caring for your new teeth. These prosthetics deserve ample care and attention, which you can provide through:
Avoiding tobacco products and not smoking.
Limiting or avoiding dark-colored beverages and foods (i.e., soda, tea, coffee, red wine, berries, soy sauce, etc.).
Using a straw to consume anything that might leave stains, as it limits the exposure between your teeth and the liquid.
Use the appropriate tools instead of relying on your teeth to do the job.
Avoid any abrasive toothpastes that might scratch or damage the glaze on your restoration. Use only non-abrasive toothpaste or gels.
Adopt a good oral hygiene regime that involves brushing and rinsing after every meal to eliminate stain-causing particles that might remain on the surface of your teeth.
Don't sabotage your investment in your new smile. Take the appropriate steps and be proactive about your oral health. Your commitment will not only leave your natural teeth looking healthier but your dental implants lasting longer.
About the Author
Dr. Dory Stutman graduated with his dental degree from the School of Graduate Dentistry at Case Western Reserve University. Completing his general practice residency at MetroHealth Medical Center in Cleveland, Ohio, he also finished a postgraduate program in esthetic dentistry at the University of Buffalo. Helping to lead the team at South Shore Dental Care, he works closely with individuals suffering from tooth loss to provide dental implants as a safe and effective way to restore function and improve appearance. If you want to invest in a long-term smile solution, contact us at (516) 798-3808.