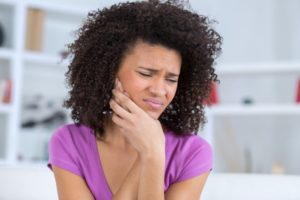 Since dental implants replace the entire structure of a missing tooth both above and below the gumline, they look, act, and feel just like natural teeth. In fact, dental implants feel so comfortable and lifelike that many patients forget that they have them from time to time! However, the implants themselves won't actually feel anything like a natural tooth. So what does it mean if your dental implants in Massapequa Park start to feel sensitive? Unfortunately, sensitivity in a dental implant could be a warning sign of several different issues, so it's important that you call your dentist right away. Here's what you need to know about sensitivity in dental implants and what to do if you experience it.
What Should a Dental Implant Feel Like?
Dental implants are widely regarded as the best way to replace missing teeth since they're the only option to restore a tooth's missing roots. However, there is one part of a tooth a dental implant cannot replace: the nerve of the missing tooth. If you've ever bitten directly into something very hot or cold, then you know that your teeth can detect sensations like temperature and pressure. When you have dental implants, you'll still be able to pick up these sensations, but this information will be gleaned from the surrounding natural teeth and gum tissue. However, aside from that, a dental implant should feel just like a homegrown tooth, and it shouldn't feel uncomfortable at all.
Causes of Dental Implant Sensitivity
Unfortunately, sensitivity in the mouth can be caused by a wide range of issues, so it's important that you visit your dentist for an examination. Since dental implants cannot feel anything themselves, the sensitivity that you're experiencing must be coming from somewhere near the implant, such as:
An issue in the surrounding teeth: Although the sensitivity may seem like its coming from your implant, it could potentially be coming from the neighboring teeth. Cavities, cracks, worn enamel, and numerous other issues can cause sensitivity in the natural teeth surrounding your dental implant, making it feel like your dental implant is sensitive.
An issue in the surrounding gum tissue: Sensitivity can also come from injured gum tissue near your dental implant, which can pose a significant threat to your smile. Sensitivity can sometimes be a warning sign of dental implant failure, in which the tissues helping to hold the dental implant in place are compromised.
What to Do If Your Dental Implant Feels Sensitive
If you feel sensitivity around your dental implant, it's best to take action right away. Taking a "wait and see" approach could put your smile in jeopardy. Instead of risking permanent damage, call your dentist right away. They'll likely want to see you right away to determine the cause of your sensitivity so it can be treated as soon as possible.
About the Practice
South Shore Dental Care is dedicated to helping the smiles of Massapequa Park achieve optimal oral health and maintain it for life. That's why they work with the latest dental technology and offer long-term solutions like dental implants. If you're concerned about your dental implant for any reason, don't hesitate to reach out to them so they can make sure your smile stays strong and healthy for decades to come. To learn more, they can be contacted online or at (516) 798-3808.