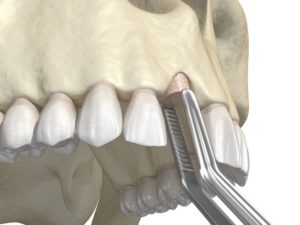 Your mind is made up—you want to get dental implants to replace your missing teeth. You've done the research, and you think you understand what's involved in the treatment process. Then, during your consultation with an implant dentist, they say you need a bone graft first. What is this procedure? Why is it important before implant placement? Get the answers to these and other questions below!
What Is a Bone Graft?
Bone grafting is a surgical treatment that replaces lost or insufficient jawbone tissue. This bone can damaged or degenerated after gum disease, after facial injury or trauma, or with the natural passage of time after a tooth has been lost. Without proper stimulation from tooth roots and a healthy biome in the mouth, the jawbone loses density or deteriorates. A bone graft can also compensate for certain medical conditions, like osteoporosis or cancer, that have left the jawbone weak. A bone graft reinforces this weakened bone tissue.
When Is a Bone Graft Necessary?
Bone grafts are commonly needed for patients who are getting dental implants. In fact, even those who only lost a tooth recently may, but not all implant cases require this procedure. It becomes necessary if the patient doesn't have enough bone density to envelop the implant post properly. Otherwise, without the stability of the jawbone, the implant will fail.
What Is the Bone Grafting Process?
Once you and your dentist have decided that a bone graft is the right treatment for you, the procedure is fairly simple. Although there are different kinds of bone grafts, they all basically accomplish the same goal. Your dentist will put in bone graft, which can be made of several kinds of materials, into the weakened area to make the jawbone more robust and ready to support an implant. Then, you'll recover for several months before the actual placement procedure occurs to make sure the bone is healthy enough to move forward.
How Do You Know If You Need a Bone Graft?
It can be impossible to tell simply by looking in someone's mouth whether they could benefit from a bone graft. Even implant dentists must look at CBCT scanned images, which show much more detail than normal X-rays. Looking at the bone density on these images in an implant consultation, your dentist can determine if a bone graft is necessary for your implants' success.
If you're set in your decision to replace your missing teeth with dental implants, you shouldn't let common preliminary work like a bone graft deter you from pursuing your healthy smile. It's worth making the slight detour before the placement procedure. This treatment only further strengthens your replacement teeth so that they last for many years.
About the Practice
The Luminous Smile at South Shore Dental Care is proud to have two experienced and highly trained dentists on staff. In addition to implant training, Dr. Dory Stutman has undergone advanced coursework in intraoral bone grafting for implant site development, and Dr. Khalida Stutman has devoted some of her approximately 100 hours of yearly coursework to dental implants. As a result, patients can experience treatment from beginning to end in one location. To schedule a consultation with either Dr. Stutman, you can contact the practice through their website or by calling 516-798-3808.