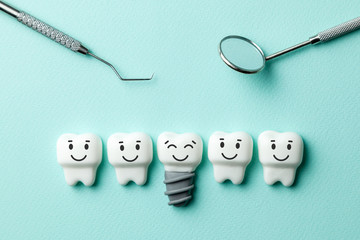 Are you wanting to replace your missing teeth? There are several different tooth replacement options out there to choose from, like dental implants. Implants have become a preferred by dentists and patients alike because of their many benefits, but how long do they last? Continue reading to learn more about the lifespan of dental implants as well as some steps you can take to make them last as long as possible.
How Long Do Dental Implants Last?
When dental implants are maintained properly, they can last for upwards of 25 years or even a lifetime. However, there are a variety of different factors that go into this, including how well you care for them, how often you see your dentist for regular checkups, and their location in your mouth. Implants that are placed in the back of the mouth don't tend to last as long as those placed in the front of the mouth because they receive more strain from regular chewing. The crown that is placed on the implant typically lasts between 10 to 15 years before needing a replacement.
How Can You Make Your Implants Last?
As previously stated, implants can last for the rest of your life if you care for them properly. Here are some steps you should be taking to prolong their life as long as possible:
Avoid smoking: Nicotine buildups from smoking tobacco products negatively influence the blood supply to your gums. This makes it more likely that you will experience a dental implant failure.
Excellent oral hygiene: Your replacement tooth is not susceptible to decay, but the tissue surrounding them is more likely to become infected than the tissue around your natural teeth. You need to brush twice and floss once and day to prevent periodontal disease.
Be careful: You won't need to follow any food restrictions once your implants have finished healing, but you need to be especially careful when consuming thing that are hard or sticky. Do not use your teeth as tools for opening or cutting thing because you could damage your implant.
See your dentist: Regular dental visits are needed in order to maintain optimal oral health, especially when you have dental implants. Your dentist checks to ensure that your implants are still in good shape.
Dental implants are a great investment, but you need to care for them in order for them to last. This way, you can show off your restored smile for many years to come!
About the Author
Dr. Dory Stutman and Dr. Khalida Stutman are two of the leading cosmetic dentists in the Long Island area. Both dentists earned their dental doctorates from the School of Graduate Dentistry at Case Western Reserve University and are members of both the American Dental Association and American Academy of Cosmetic Dentistry. To learn more about dental implants or to schedule a consultation at their office in Massapequa Park, visit their website or call (516) 798-3808.