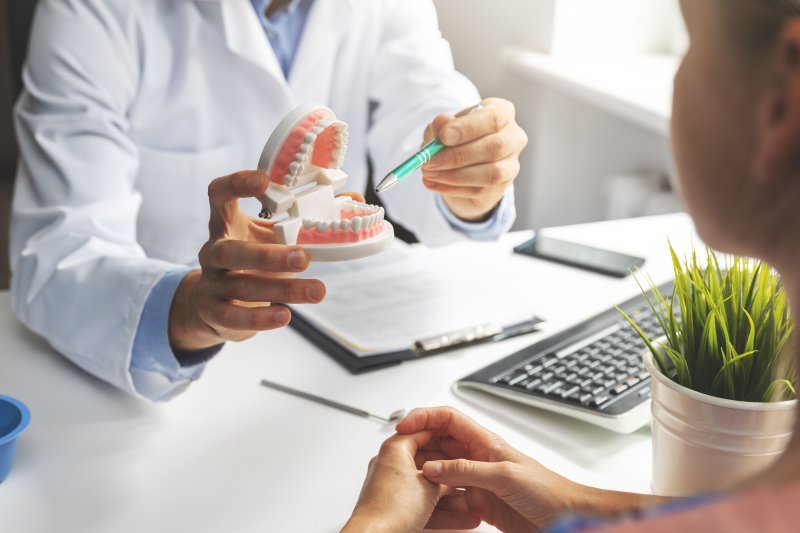 If you are struggling with tooth loss, then you already know that even a small gap in your smile can negatively impact your confidence, bite, and speech. Luckily, state-of-the-art dental implants can replicate the tooth's structure from root to crown, resulting in a complete, healthy, fully functional smile. Plus, they are built to last, which is why their lifespan is 20+ years. Unfortunately, however, not every patient is a candidate from the start. Keep reading to learn three issues that could stand in your way and the solutions available to help!
#1. Inadequate Bone Density
Dental implants are widely known for their unmatched durability. The secret? The implant posts are surgically inserted directly into your jawbone, preventing bone loss and increasing your bite force. Therefore, inadequate bone density will stand in your way of rebuilding your smile with this modern tooth-replacement option. Fortunately, undergoing a bone graft can restore your jawbone and make you a candidate once you've healed fully.
#2. Lack of Good Oral Hygiene
Good oral hygiene is essential, especially if you are considering dental implants. After all, their success in the short and long-term relies heavily on an infection-free environment, which is virtually impossible if food particles, plaque, and debris are left alone to wreak havoc on your oral health. That is why a solid dental care routine is an absolute must both before and after your procedure. Don't worry – your dental team will share all the oral hygiene best practices you need to know to keep your dental implants in pristine condition for years to come.
#3. Use of Tobacco Products
Smoking, and other poor dental habits, can compromise the condition of your oral health and significantly impede the healing process. So, the use of tobacco products is absolutely prohibited. If you need any assistance putting a plan in place to quit, don't hesitate to speak with your dentist and their team. They can provide you with helpful, effective resources to ensure you get the full, healthy smile you deserve in the short and long run.
Dental implants are a highly versatile, extremely successful tooth-replacement solution that can address a single missing tooth or more advanced tooth loss. If any of the above are standing in your way of benefiting from this smile-rebuilding treatment, don't hesitate to speak directly with your dental team about the options available to make you a candidate!
About the Practice
At South Shore Dental Care, patients can enjoy world-class dentistry delivered by two experienced, skilled, passionate professionals, Dr. Dory Stutman and Dr. Khalida Stutman. Since joining the dental field, they've helped countless patients achieve their smile goals with everything from state-of-the-art dental implants to complete smile makeovers with cosmetic dentistry. Simply put, whatever your smile needs to reach its full potential, they will go above and beyond to make it happen. To learn if you are a candidate for dental implants, visit our website or give us a call at 516-798-3808.