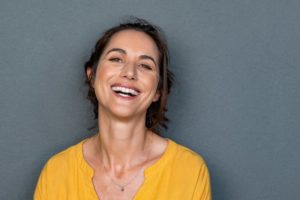 As a smart consumer, you're careful with your money. Whether you're on a tight budget or not, you don't spend frivolously or needlessly, and you watch every dime to make sure it's well spent. While visiting your dentist in Massapequa Park to care for your dentures, they suggest considering dental implants. If you already have tooth replacements, are dental implants worth the cost?
Although they may seem unnecessary at first glance, dental implants are a priceless investment with benefits you simply won't get with dentures alone. In this blog post, you'll learn about the priceless pluses that make the cost of dental implants in Massapequa Park well worth it.
Security and Stability
If you've worn dentures before, you know the sensation of having your denture slip out of place—perhaps while eating or talking with someone. You also have experienced the adjustment period required every time you receive a new denture.
With dental implants, slippage doesn't happen. Your prosthetic teeth are anchored to the implant posts, which are firmly embedded in the jaw bone. Basically, when you attach your dentures to implants, they are locked in place, just like natural teeth.
Higher Quality of Life
Chances are you know that you should eat more fruits and vegetables to have a healthy diet. These foods give your body the nutrients it needs to function properly. In other words, when you don't eat well, you don't feel well, and you can miss out on fun activities in life. But if you have dentures, chewing nutritious, fibrous foods like broccoli, apples, carrots, and more can present no small challenge.
Dental implants allow you to maintain a healthier lifestyle through a robust, fresh diet. As a result, your body can be more active, and you can live life to the fullest.
Confidence
Although dentures are certainly better than no replacement teeth at all, you may not feel comfortable eating, speaking, or even smiling in public for fear of your dentures slipping out of place. Fortunately, dental implants can hold your dentures in position, so you can freely talk, chew, laugh, and smile without worrying about your replacements.
Long-Term Savings
When you consider only the upfront costs, dentures appear to be the more affordable option. However, taking into account all the adjustments and replacements you'll need to pay for in years to come, you may find that dental implants can actually save you money in the long run.
While dentures may "get the job done" for now, are you really reaping all the benefits you could from your replacement teeth? Choosing to invest in dental implants can give you advantages that you simply can't put a price tag on.
About the Practice
At The Luminous Smile at South Shore Dental Care, we are privileged to have two talented, experienced dentists on staff. With about 20 years of practicing experience each, Dr. Dory and Dr. Khalida Stutman take about than 100 hours of continuing education courses every year to hone their skills in areas like dental implants. If you want to learn more about how dental implants can change your life for the better, you can contact South Shore Dental Care by calling 516-798-3808 or clicking here.