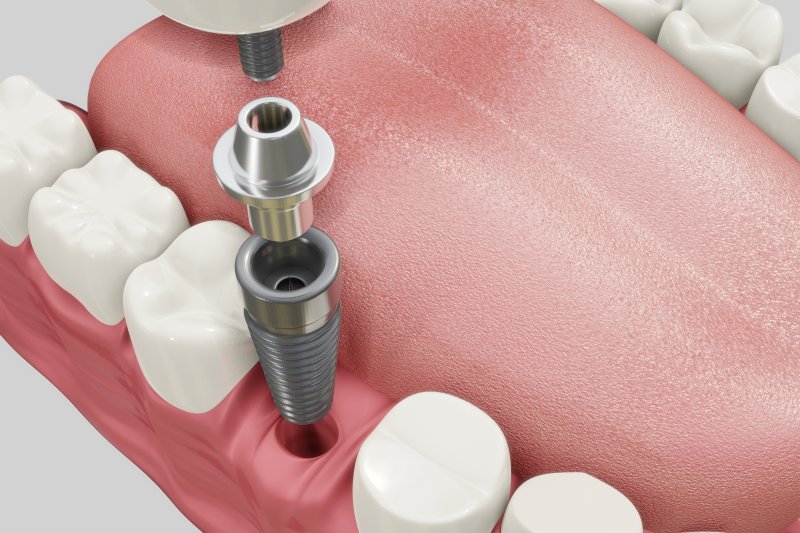 A strong, durable replacement tooth needs a sturdy, reliable root to hold it in place. While dental implants have been made out of a few different materials, titanium remains the metal of choice for making them. This is no mistake; titanium offers a number of advantages that allow your new tooth to function at its best. Read on to learn 4 important advantages of titanium dental implants in Masapequa Park.
1. Biocompatibility
Any material used to make dental implants must be biocompatible. In other words, it has to be accepted by the body in order to successfully fuse with the jawbone. Titanium is known to be a highly biocompatible metal that can easily join with bone tissue in a process called "osseointegration." (In fact, it was the discovery of osseointegration that eventually lead to the successful placement of the first dental implant in 1965.) Because of this, titanium implants are able to perform all of the same functions as natural tooth roots, such as providing the stimulation needed to prevent bone loss. They're also unlikely to generate an immune reaction in the body. In contrast, stainless steel implants are often rejected and in some cases might even cause an allergic reaction.
2. High Success Rate
Dental implant failure is rare, but still possible. Hence, it's important to choose materials that are known to have an extremely high success rate. Titanium has been used to make dental implants for decades, and as such there's plenty of data backing up their reliability and effectiveness. An implant made out of titanium is an implant you can trust.
3. Durability
Titanium is a very strong metal that is unlikely to break. It also doesn't wear down very easily when exposed to the pressures of biting and chewing. As such, you won't have to worry about your dental implants breaking from normal use.
4. Longevity
Thanks to their durability, titanium dental implants have a very long lifespan, typically lasting around 30 years or even longer. They're also very easy to take care of, requiring only minimal maintenance in the form of normal brushing, flossing, and regular trips to the dentist's office. There's very little chance of dental implants needing to be replaced, so you can expect them to continue supporting your new smile for many years to come. In the best case scenario, they might even last the rest of your life.
Well-made dental implants in Massapequa Park can be life changing. Are titanium implants the best option for replacing your missing teeth? Get in touch with your dentist today to schedule an appointment so that you can learn more about the treatment and whether it may be right for you.
About the Author
Dr. Dory Stutman is a native in Long Island and has been in private practice since 1991. Each year, he undergoes over 100 hours of advanced training in advanced seminars, particularly focusing on cosmetic dentistry, dental implants, and full-mouth reconstruction. He knows firsthand the power of titanium dental implants and is proud to offer them to his patients at South Shore Dental Care. To schedule an appointment, visit his website or call (516) 798-3808.