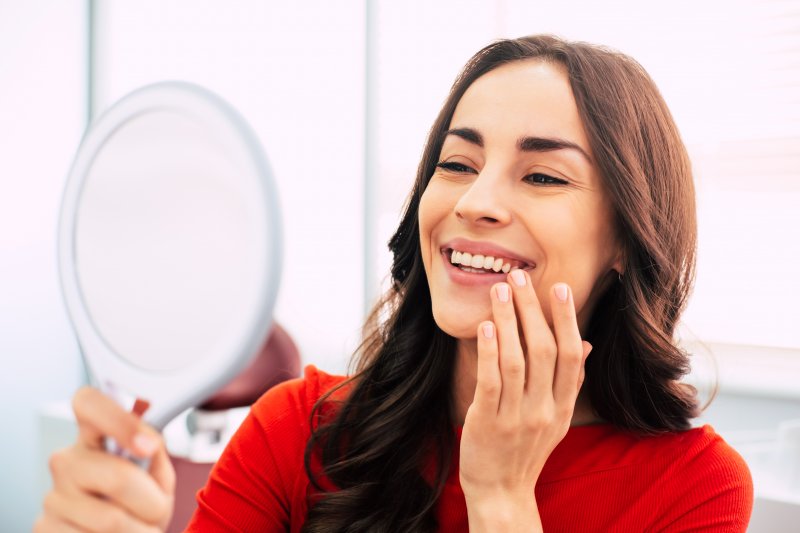 Dental implants are known for their abilities to improve oral health. But what many patients desire is to have a smile that not only functions for decades but looks aesthetically pleasing for years to come. When preparing to undergo this type of tooth replacement, it's important that you understand how your dentist goes about ensuring the actual look of your smile. Read on to learn about the cosmetic benefits of dental implants in Massapequa Park and what you can expect as you move to replace your missing teeth.
Bone Grafting Produces Stronger, More Youthful Appearance
Before receiving your dental implants, it may be necessary to undergo a bone graft. Why? The reason is that missing teeth can result in loss of bone and soft tissues, both of which can cause significant changes to your facial shape. Unfortunately, the longer you go without treatment, the more difficult it becomes to create the desired look. The good news is you can restore and enhance your bone tissue through bone grafting. By having a cosmetic dentist in Massapequa Park place bone grafting minerals into the weakened areas of your jawbone, this area of your mouth will strengthen over time and create a solid foundation for your implants. In the end, you'll have a more youthful and beautiful appearance.
The Spacing of Your Implants Make a Difference
When a single missing tooth is to be replaced, the crown must be created to minimize any abnormal space located between the real and artificial tooth. This is why your dentist may choose to have a restoration created that makes it look as if it is coming up out of the gum tissue instead of simply resting on top of it. By creating a ridge in the gums, this will ensure the dental crown looks more natural and better aligns with the natural teeth on either side.
Placing Implants Creates a More Pleasing Aesthetic
Knowing how and where to place each implant can make a difference when viewing your final results. Should there be any signs of gum recession when the implant is placed, it may cause the prosthetic to look longer than it should. However, it is necessary that your dentist position the implant in such a way that it properly fuses with the bone and surrounding tissues and aligns correctly with nearby teeth to ensure a healthy bite. If the gum tissue is too thin, the post may be visible, especially if placed in an area of the mouth that is easily seen by others. In this case, your dentist may choose to position the implant closer to the palate side of your gums than the facial side so it cannot be visibly seen.
From the placement and spacing to the strong foundation created by your jawbone, the treatment plan your dentist designs for your future smile is a tedious process that requires skill, knowledge, and training. Although the process of preparing your new smile can take time, the results you achieve will certainly be worth the wait.
About the Author
Dr. Dory Stutman graduated with his dental degree from the School of Graduate Dentistry at Case Western Reserve University. Completing his general practice residency at MetroHealth Medical Center in Cleveland, Ohio, he also finished a postgraduate program in esthetic dentistry at the University of Buffalo. He and his team at South Shore Dental Care want to help you achieve a healthier, more aesthetically pleasing smile. This is why he ensures your dental implant placement improves your oral health and leaves you more confident and pleased with the final results. If you want to undergo tooth replacement that gives you the aesthetic you desire, contact us at (516) 798-3808.