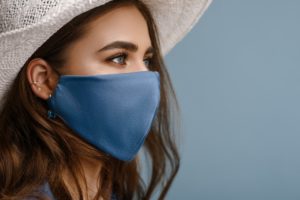 As we enter month seven of the COVID-19 pandemic, wearing a facemask while going out has become a staple of everyday life. While wearing a mask plays an essential role in stopping the spread of the coronavirus, many of us are tired of smelling our own breath. What's more, now that dentists are opening their doors again, they're discovering an increase of oral health problems caused by what they call "mask mouth." Read on as your Massapequa Park dentist explains everything you need to know about keeping you and your smile healthy during the COVID-19 pandemic.
What Is Mask Mouth & What Does It Cause?
As dentists begin to gradually see more of their patients after weeks in quarantine, they're reporting a trend in new dental problems. In fact, recent interviews with dental professionals indicate that up to 50% of their patients are exhibiting an unexpected decline in oral health. Since many believe that these problems are the result of wearing masks for very long periods of time, it's been named "mask mouth."
Wearing a mask will not make it harder for you to breathe. However, it can increase the dryness of your mouth, which leads to an increased risk of conditions like:
Bad breath: Without saliva to wash away lingering particles on your teeth and gums, odor-causing bacteria can quickly build up and leave your breath with an unpleasant smell.
Tooth decay: Dry mouth leads to weaker enamel. When paired with an increase of plaque due to lack of saliva, your risk of developing tooth decay and cavities increases dramatically.
Gum disease: The buildup of plaque and bacteria can also cause inflammation in the gums. Without treatment, this can advance into an infection called gum disease, which can cause permanent jawbone damage and tooth loss.
Does That Mean I Should Stop Wearing a Mask?
You should absolutely CONTINUE to wear a mask whenever you're out in public. We release hundreds of respiratory droplets that can reach between 20 and 500 micrometers away with a single spoken phrase. Since so many COVID-19 cases present few or no symptoms, in can be difficult to know if you or another person is spreading infected droplets. Wearing a mask prevents the transmission of the virus by blocking these droplets before they can spread. The CDC, the WHO, and countless other health professionals urge everyone to wear a mask out in public, even if you feel fine.
How Can I Keep Myself & My Smile Healthy?
Thankfully, a few simple precautions and healthy habits can keep your smile healthy while you stay safe during the COVID-19 pandemic, like:
Drinking more water and cutting back on caffeinated drinks to prevent dry mouth.
Brushing for two minutes twice a day, flossing daily, and rinsing with mouthwash regularly.
Visiting your dentist for your biannual dental cleanings and checkups.
Your dentist has implemented a series of measures to ensure their patients are as safe as possible while they get the dental care they need. If you need to visit them for your regular checkup or to treat an issue you've developed during quarantine, you can rest assured that your wellbeing is their top priority.
About the Practice
South Shore Dental Care is proud to help keep the smiles of Massapequa Park and the surrounding communities healthy with excellent dentistry. They have always met and exceeded the ambitious sanitation standards set forth by the CDC. Now and always, your comfort, safety, and health are our main focus, so feel free to reach us with your questions or concerns via our website or at (281) 334-3443.