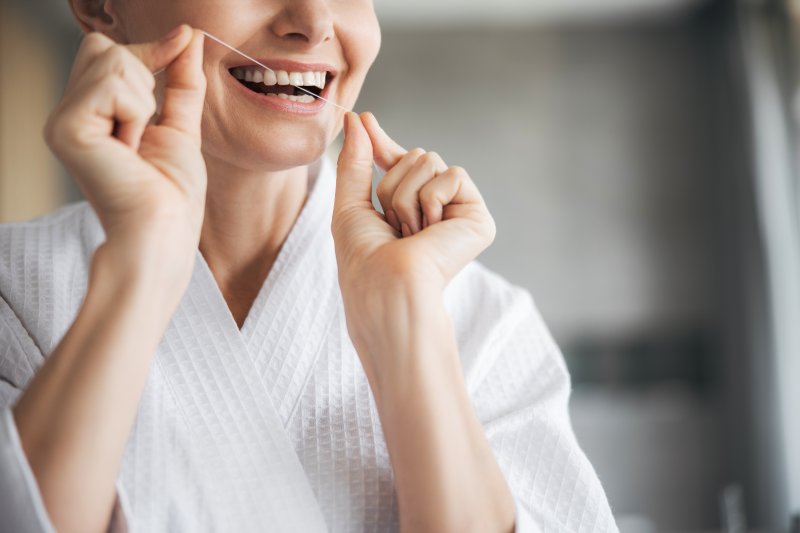 With over 120 million Americans missing at least one permanent tooth, tooth loss is a rampant dental concern facing U.S. adults today. Fortunately, state-of-the-art dental implants are a life-like, durable solution for patients missing one, a few, or an entire arch of teeth. Plus, they can last 20+ years with proper care! With this in mind, here's what you need to know about flossing with dental implants.
Why Flossing with Dental Implants Is Important
Did you know that brushing alone only cleans about 60% of the surface of your teeth? Therefore, if you neglect flossing, the food particles, plaque, and bacteria in your mouth can result in everything from minor decay to severe gum disease. Since successful dental implants rely on an infection-free mouth, these conditions can significantly shorten their lifespan or cause them to fail entirely. The good news is that you can prevent this from happening by being vigilant about flossing!
Flossing with Dental Implants
Although modern dental implants look and function like your natural teeth, there are some differences when it comes to flossing. Without dental implants, your periodontal ligament will signal if you push the thread against your gums too hard. However, if you do have this state-of-the-art tooth replacement option, it is important to remember that they attach to a weaker seal (a peri-implant seal). Since this seal does not contain the same nerves, it is crucial to be very careful when flossing. To ensure you have the technique down, your dentist will guide you through the process before and after your procedure so you can floss your dental implants properly.
6 Additional Oral Care Best Practices
Flossing is just one important component of keeping your dental implants in impeccable shape. To ensure their success in the short and long-term, make sure to also:
Brush your teeth twice a day with a soft-bristled toothbrush
Avoid hard foods (like peanut brittle)
Limit sugary foods and beverages (i.e., soda, candy, etc.)
Drink plenty of water
Implement a nutrient-dense diet
Visit your dentist every six months for a professional checkup and cleaning
Dental implants can fill the gaps in your smile while simultaneously preserving your jawbone and restoring your bite force. But only if they are cared for properly! With this in mind, make sure to floss every day with the above best practices.
About the Practice
At South Shore Dental Care, patients with one or more missing teeth can rebuild their smile with the help of Dr. Dory and Dr. Khalida Stutman. Together, they use their extensive experience, clinical expertise, and patient-centered approach to care to address each person's unique dental needs and smile goals. If you are interested in getting dental implants, visit their website or give them a call at 516-798-3808.