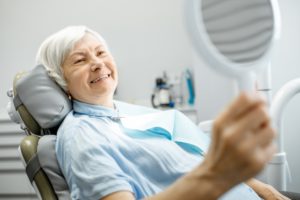 After you lost a tooth, you pondered your options for replacing it. Eventually, you concluded that getting a dental implant would be the best choice. After all, they offer countless benefits over dentures and bridges, such as increased stability and durability. However, you're not quite sure if they're right for you. Although your dentist is the best person to determine your eligibility, there are a few basic criteria that can help you figure out whether you're a good dental implant candidate in Massapequa Park.
Healthy Gums
While dental implants are cavity-proof, they can still suffer if you develop gum disease. Plaque that builds up in your gums can weaken the jawbone around the implant, causing it to detach and ultimately fail.
Commitment to Oral Hygiene
Fortunately, problems like gum disease can largely be prevented with a diligent oral hygiene routine. Just like natural teeth, your implant restorations need to be brushed twice a day. Flossing and rinsing with mouthwash can go a long way in preventing the buildup of bacteria that can compromise your implants.
Strong Jawbone
Long-term implant success depends on the implants being able to fuse with the jawbone. If you've suffered from bone loss after losing your teeth, your jawbone may not be strong enough to support implants. Don't worry, though. In many cases, your dentist can simply graft bone tissue onto the area to give it the strength it needs to accommodate implants.
Free from Chronic Disease
Certain health issues, such as diabetes, cause higher risks of gum disease as well as slower healing rates. Other chronic conditions, like sleep apnea and heart disease, can interfere with the anesthesia during your implant placement surgery. You may need to talk with your primary care doctor about how to manage your condition during the dental implant process.
Abstinence from Drinking Excessively or Smoking
Frequent alcohol consumption impairs healing by inhibiting the formation of blood clots and causing dry mouth. Similarly, smoking increases your risk of gum disease, slows healing, and may even prevent your implants from integrating with your jawbone. Most dentists will recommend abstaining from these habits for a few weeks before dental implant surgery and for several months afterward.
Even if you don't meet all of the criteria in this post, you might still be able to get dental implants. Talk to your dentist in Massapequa Park about changes you can make to increase your chances of a successful procedure.
About the Practice
At South Shore Dental Care, we pride ourselves on our ability to provide a wide range of dental services under one roof. Drs. Dory and Khalida Stutman each complete more than 100 hours of continuing education hours a year. They've undergone advanced training in many areas of dentistry, including dental implant placement. To learn whether you'd make a good dental implant candidate, contact our office by calling 516-798-3808.