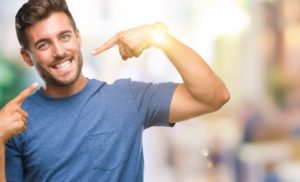 Years of extensive tooth decay, insufficient oral hygiene, and facial trauma can really take a toll on your smile. Having imperfect teeth might not make you feel like smiling much at all. If your pearly whites have suffered significantly, you might feel as though there's no hope for having a beautiful grin every again. Thanks to full mouth reconstruction in Massapequa Park, that's not the case. With this personalized set of restorative dental treatments, your damaged teeth can be fully repaired, allowing you to enjoy a flawless smile that you can't help but show the world. Here are four of the most common full mouth reconstruction options.
Dental Crowns
Dental crowns are a great way to protect a vulnerable tooth from further damage while also improving the appearance of your smile. After preparing the tooth, your dentist will capture impressions of it and use them to create a tooth-shaped cap known as a crown. It slips over your tooth, restoring its chewing function and giving you an attractive grin again.
Dental Bridges
If you've lost one or more teeth in a row, they can quickly be replaced with a dental bridge. Two dental crowns are fitted over the remaining teeth on either end of the gap, with prosthetic teeth called pontics strung in the middle. Because bridges are made of tooth-colored materials, no one should even be able to tell the difference between your bridge and your natural teeth.
Dentures
Patients who have lost most or all of their teeth might benefit from a denture. A set of artificial teeth is attached to a gum-colored acrylic base that comfortably sits on the gums. Full dentures, which replace a full arch of missing teeth, are held in place with natural suction. Partial dentures replace multiple missing teeth and are instead secured with metal clasps that attach to your natural teeth.
Dental Implants
By far the most beneficial way to replace missing teeth is with dental implants. While dentures and bridges only recreate the top portion of the tooth, these titanium posts are surgically placed in your jawbone to replicate the structure of the entire tooth. Because of the permanent bond they form with your jawbone, they offer unmatched stability and can last for 30+ years. Depending on how many teeth you're missing, dental implants can be restored with a lifelike, custom-made crown, bridge, or denture.
If your smile has sustained significant damage, ask your dentist in Massapequa Park if full mouth reconstruction is right for you. This treatment plan could give you something to smile about!
About the Practice
South Shore Dental Care is essentially your one-stop shop for dental treatments. Drs. Dory and Khalida Stutman are both skilled in numerous areas of dentistry, including placing and restoring dental implants. We can take care of virtually all of your full mouth reconstruction needs under one roof. To learn more about which treatments would be best for your smile, give us a call at 516-798-3808.