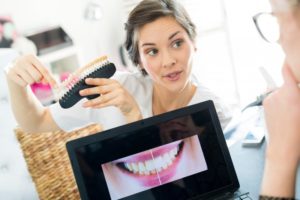 Thanks to innovative technology and modern dentistry, you don't need painful, lengthy treatment to achieve your smile goals. With veneers, you can brighten your teeth, fix cracks, and close gaps with one simple procedure. Not only are they durable and natural-looking, but they are also a teeth whitening and straightening solution all in one! However, porcelain veneers in Massapequa Park are also a large investment, so it is important to learn as much as possible about them before moving forward. To help you decide if they are right for you, your cosmetic dentist in Massapequa is sharing five important facts you may not know.
Porcelain Veneers Are a Long-Term Solution
Porcelain veneers are widely known for their ability to provide perfect smiles for patients with stained, chipped, or misaligned teeth. One of the immense benefits of porcelain veneers is that they are a long-term solution that can give you a camera-ready smile for decades to come. That being said, it is important to note that they aren't reversible. Since the application process involves changes to the enamel, patients cannot go back to their old teeth down the road. Your dentist will have you fitted for temporary veneers beforehand. This will ensure that modifications can be made to the shape, look, or size of your veneers before they are permanent.
Porcelain Veneers Can Be Placed in One or Two Visits
While traditional braces may require 12+ months of treatment to straighten misaligned teeth, veneers can be designed and placed in two visits! This provides patients with much faster treatment compared to undergoing whitening, orthodontic treatment, and getting crowns to achieve the same results.
Porcelain Veneers Can Fix One Tooth or Your Entire Smile
One of the amazing benefits of porcelain veneers is that they are versatile. Whether you have one problem tooth or truly want a whole new set of teeth, porcelain veneers can do it all! In fact, they can correct more than just chips and stains. They can:
Change the length of your tooth.
Fix cosmetic issues like dents, cracks, and protrusions.
Fill gaps in your smile.
Whiten your teeth.
Porcelain Veneers Require Some Care
Although porcelain veneers are relatively low maintenance, they do require some care. After all, they are an investment that you want to last for years to come. Plus, it isn't inexpensive to fix a porcelain veneer. Therefore, you'll need to care for them properly by:
Brushing them for two minutes twice a day.
Flossing in between each tooth daily.
Avoiding bad dental habits (i.e., smoking, nail-biting, etc.).
Visiting your dentist bi-yearly for checkups and cleanings.
Although porcelain veneers have risen in popularity recently, they have been helping people achieve their smile goals for decades! If you are ready to invest in your self-confidence and oral health, then talk to your dentist about whether porcelain veneers are the right option for you.
About South Shore Dental Care
At South Shore Dental Care, patients can receive world-class orthodontic treatment, dental implants, and cosmetic dentistry all in one place. Dr. Dory Stutman, Dr. Khalida Stutman, and the entire team use their talents and cutting-edge technology to create beautiful smiles for their patients. If you are considering correcting your smile with porcelain veneers, feel free to visit our website or give us a call at 516-798-3808.