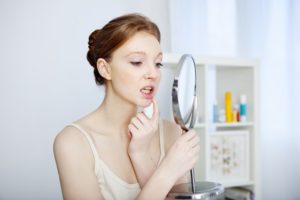 Loose teeth might be cute when you're a kid, but once you're an adult, they should stay firmly rooted in place. Unfortunately, sometimes adult teeth do come out, whether due to injury, decay, or extraction. In that case, they should be replaced with dental implants in Massapequa. However, your implant should never feel loose like a baby tooth. If yours does, then something might be seriously wrong. Here's how to handle this situation.
Why Is Your Dental Implant Loose?
No matter the reason behind your loose implant, you should call your dentist in Massapequa and let them know the instant something feels not quite right. Here are a few reasons your implant might be loose.
Bone Loss
If your implant fails within the first year, it might be due to jawbone loss in the area. This is a sign that osseointegration, or the process of your jawbone fusing with the implant post, was not successful.
Loose Dental Crown
Sometimes it's not the implant itself that's loose, but the crown atop your implant. Although not as serious as a loose implant, you should still have your dentist take a look at it.
Peri-Implantitis
This is the most common type of gum disease associated with implants. If caught early enough, improved oral hygiene and antibiotics may be enough to save the implant, but if you wait too long, your dentist might need to remove the implant, treat the area, and reinsert the implant.
How Can You Tell If Your Implant Is Loose?
Obviously, if your implant has fallen out of your mouth or is moving around, then you should consult your dentist. Other signs to watch out for include:
Visible bone loss
Pain
Discoloration around the area
Bleeding when touched
How Can Your Dentist Treat a Loose Implant?
The only effective treatment for a loose dental implant is to remove the crown and clean and inspect the site. Once the crown is taken off and the area is clean, your dentist can determine the best course of action. They may decide to simply tighten the implant and/or crown, or remove and replace the implant altogether. However, your dentist will be sure to discuss any treatment options with you before going through with anything.
If your dental implant is loose, the first thing you should do is let your implant dentist know. They can figure out what's wrong and what treatment would be best for your situation.
About the Author
Dr. Dory Stutman earned his doctorate from the School of Graduate Dentistry at Case Western Reserve University and has been in private practice since 1991. Each year, he attends more than 100 hours of continuing education courses in many subjects, including dental implants. He is also an accredited member of the American Academy of Cosmetic Dentistry. If you think your dental implant might be loose, you can contact Dr. Stutman's practice at (516) 798-3808.