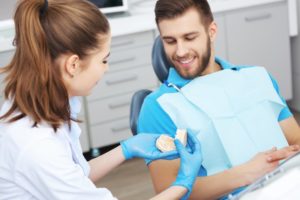 Do you need to go to the dentist, but figure it can wait until next year? While the idea of undergoing any kind of dental procedure doesn't sound exciting, you might want to reconsider waiting. Why? If you want to keep your costs low and get the most out of your dental insurance, a dentist in Massapequa suggests taking advantage of your benefits now before it's too late. Read on to find out what can happen if you wait until January 1, 2020.
Use 'Em or Lose 'Em
When you're paying for a product or service, you want to make sure your money is well spent, right? Whether it's a gym membership, a new pair of shoes, or buying dental insurance, you want to know you've made a worthy investment. How do you do that? By using it!
Buying dental insurance is the first step in realizing that it's worth your time and money. While you and your dentist aspire to see healthy teeth and gums each time you come in for a checkup and cleaning, there are instances where problems arise. When this happens, your insurance benefits will be most helpful, especially if you've reached your deductible. Let's break it down:
Premiums
This is the amount you agree to pay each month for continued access to your benefits throughout a single calendar year. This is no different than the monthly fee you pay to go work out at your local gym. Whether it is you or your employer paying for your policy, it's best you use it, so as to not let the money spent go to waste.
Deductibles
Think of this as the goal you want to hit each year. The deductible is a set amount you must spend before your insurance company will agree to pay for the services you receive. Once you hit this mark, larger, more expensive procedures can be more feasible because your insurance company will be picking up most of the bill.
However, it's important to remember that once the calendar year is over, your deductible resets to zero, and you must start over with the new year.
Annual Maximums
While it would be nice for your insurance company to just pay for any service, at any time, no matter the cost, there is a limit, which is called the annual (or yearly) maximum. This is the highest amount your insurance company agrees to pay within a full year. Should you require treatment or a procedure that is more than your allotted amount, you will be responsible for paying the remaining balance. It is possible; however, for your dental office to work with you to spread out your treatments, so your costs remain as low as possible. This number also resets to zero with the start of a new year, so make sure to keep that in mind, as any unspent money will not roll over to the next year.
Fee Increases
Another reason to take advantage of your benefits before it's too late is that your coverage can change, which happens all the time. Some of the types of fees that can increase include:
Cost of living
Technology
Equipment
Materials Needed
Staffing
Declining Oral Health Problems
If you think avoiding the dentist and skipping regular checkups and cleanings will save you the most money, you'll be in for quite the shock the next time you do decide to visit your dentist in Massapequa. Why? The reason is that when you opt to not take care of your oral health, there are bound to be problems that develop (i.e. tooth decay, gum disease, etc.). When this happens, you will be faced with extensive procedures and treatments, as well as an extremely expensive dental bill that insurance will only partially cover.
Don't wait any longer. If you need a dental crown or a tooth extracted, or even a root canal, talk to your dentist about how you can best maximize your benefits before the year is up.
About the Author
Dr. Dory Stutman graduated with his dental degree from the School of Graduate Dentistry at Case Western Reserve University. Completing his general practice residency at MetroHealth Medical Center in Cleveland, Ohio, he also finished a postgraduate program in esthetic dentistry at the University of Buffalo. He and the team at South Shore Dental Care want you to get the most out of your dental insurance, which is why his office works to help patients navigate their policies and find ways to maximize benefits and keep costs low. To find out more about how we can help you, contact us at (516) 798-3808.